We live next to Premier Inn – we hate it as our kids can see guests having sex through the windows all the time | The Sun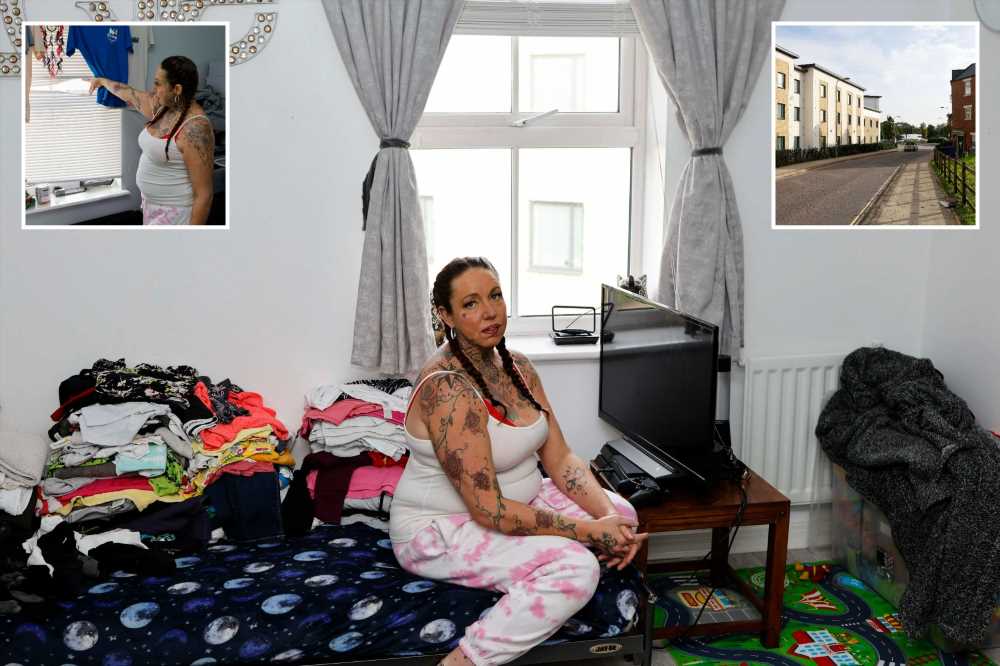 RESIDENTS living next to a Premier Inn say their lives are being blighted by the regular sight of hotel guests having sex.
Parents living close to the hotel chain's branch in Bicester have bemoaned having to close their curtains to avoid exposing their kids to the near-nightly sex shows.
The hotel recently added 56 rooms to the site, but that brought dozens of bedroom windows within yards of existing homes.
Mum-of-three Amelia Francis, 43, was horrified when her five-year-old son asked her what was happening in a room across the road. 
She said: "After dinner he always takes his plate to the sink, stands on a chair and washes it up himself. He was doing this when he said, 'Mummy, what is going on over there?' 
"I looked out and there was a couple having sex on the bed opposite.
Most read in The Sun
SEA YA SOON
Retro seaside town that once rivalled Blackpool reveals new lido, park & hotel
THROW SHADE
Our seaside town is being ruined by 'Balamory' hotel that will eclipse beach
"Look, I am no prude. Adults do adult things but to have it happening right opposite your windows and in front of your children is just not nice."
She lives in the Kingsmere housing development, a mix of private and social housing, which was built in 2017.
At the time, the houses looked out onto a large field and a Brewer's Fayre pub, while the Premier Inn was a small development to the side. 
But planners subsequently approved proposals for a 56-room extension as part of a new shopping complex. 
Most read in The Sun
SPLIT!
Jada Pinkett Smith reveals she's been secretly separated from Will for 7 years
PALS FURY
Holly Willoughby 'was FORCED to quit This Morning & is in a bad way', claims pal
saucy move
Horrified Big Brother fans demand contestant evicted over 'disgusting' habit
INTO DARKNESS
Gaza in BLACKOUT as fuel runs out before invasion to raze 'Nest of Terror'
The extension sits across the road from four three-storey family homes with just 15 yards separating window from window. 
Teri, 34, who lives just around the corner, said: "It used to be so nice. You could walk your dog over there, my boy would play out on his bike and then we got this monstrosity.  
"It is certainly popular because the car park is always full but I can imagine what it's like if you are facing it directly. The net curtains are always falling down and you can see directly into someone's room.'"
The families say that Cherwell District Council should have thought about the issue before granting planning permission.
Restaurant worker Holly Luck, 24, who also lives opposite with her mum and younger siblings, said: "I have just been walking down the road and then out of the corner of my eye I see something happening in one of the bedrooms.  
"The problem is that the net curtains are transparent when there is a light on in the room and not many guests seem to close the actual curtains.  
"It can be at any time of day but it is mostly at night. They really messed up by not putting in some sort of frosted glass.  
"The hotel is on a family estate and I do feel sorry for those with younger children. Most of our windows face the hotel so you just have to avert your eyes."
Amelia, whose children are five, 12 and 13, says she regularly looks out at couples or single men "doing stuff" she'd rather not see.   
She even called police after spotting a "go-pro" camera sitting on a tripod looking out at her home from one of the rooms. 
The mum added: "It is very disturbing. All our bedrooms face the hotel directly.
"It is not right. Even children walking home from the park see that type of behaviour. It is every other night. They should not be subjected to that from an early stage.
"They [the council] should have thought about this when they put the place up. You shouldn't be able to build dozens of hotel rooms so close to existing houses."
Restaurant manager Charlie Williams, 23, said: "It's not great to have all these hotel room windows facing you.  
"It used to be a nice field and now this hotel is right on top of us. They are just cashing in on the popularity of Bicester shopping village without thinking about the impact on those living next door."
Amelia said she had spoken several times to the Premier Inn to ask them about frosting the windows, or at least putting up notices to guests reminding them of the proximity of the homes opposite. 
She continued: "They have never apologised or done anything to even acknowledge what we have been going through.
"I have had to buy a stick-on patterned window for the kitchen window but don't see why we should have to live like this."
Her neighbour Louise Barton revealed how Amelia's daughter now has to keep her curtains closed.
She said: "When I spoke to Amelia the other day she was very emotional. Her daughter has to keep the curtains closed in her bedroom.
"There has to be a two-way system here, the hotel is in a residential area, so they should have stricter guidelines for their guests to abide by. They could at least have tinted windows."
Read More on The Sun
FEEL THE HEAT
Spanish £12-a-night caravan sites that sun-chasing Brits move to over winter
HOTEL HATE
We hate living next to Premier Inn – our kids can see guests having sex
A spokesman for Premier Inn said: "This is the first time in the four years the extension has been open we're aware of a complaint from a neighbour and definitely the first complaint of this nature – and our team were happy to speak to the neighbour to try to resolve.
"Clearly, we're sorry the neighbour had an issue that gave rise to her visiting the hotel and we hope it's an isolated one."

Source: Read Full Article