Ukraine's 'Phantom Skin' invisibility cloak is secret weapon in war with Russia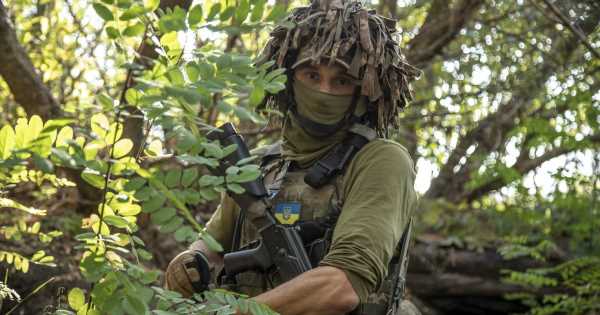 Ukraine has reportedly developed an "invisibility cloak" that is saving lives as they continue their fight back against Vladimir Putin's Russian forces.
The device, dubbed "Phantom Skin", hides Ukrainian troops and equipment from Russian drones.
According to i News, it was created by an unknown scientist who witnessed the atrocities carried out by Russian forces in the town of Bucha at the start of the war. The bodies of hundreds of civilians were found stuffed into mass graves in Bucha when Russian forces withdrew last year.
READ MORE: Inside Ukraine's daring jet ski raid into Crimea that SAS told them was 'mission impossible'
For the latest brilliantly bizarre news from the Daily Star, click here.
The device is being produced with the help of Ukrainian government agency Spets Techno Export (STE). It is now being marketed to western militaries.
A STE spokesperson told i News: "The technology was developed after the invasion by Russian forces and the occupation experienced by the developer in Bucha as a contribution to resisting Putin."
The cloak is made from an opaque black plasticised material – the precise composition of which is a heavily guarded secret – and disguises the heat signals given off by troops and their equipment. This makes them invisible to thermal and infrared sensors.
The STE spokesperson added: "There have been cases of using Phantom Skin not only for its intended purpose such as masking soldiers but also as a cover for wounded soldiers to shield them from the 'all-seeing' eye of nightvision cameras installed on drones before evacuation from the battlefield."
Earlier this year Russian State-owned news outlet RIA Novosti reported boffins at the country's RKhBZ Military Academy had also developed an invisibility cloak that works in a similar way.
"A cape for a serviceman has been developed and experimentally evaluated, which makes it possible to completely hide his trace from the operation of thermal imagers or drones with thermal imaging cameras," a source said, although it isn't clear whether any of the devices have made it to Russia's frontlines.
For the latest breaking news and stories from across the globe from the Daily Star, sign up for our newsletter by clicking here.
Source: Read Full Article