Israeli statesman calls for blunt talk from Australia on war effort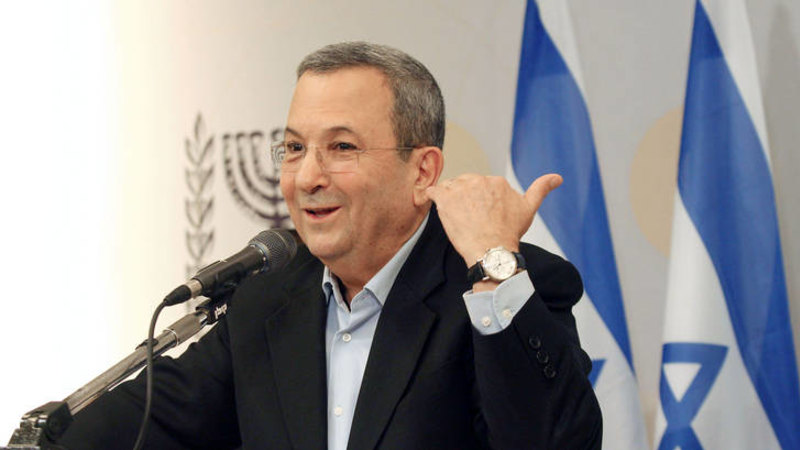 Save articles for later
Add articles to your saved list and come back to them any time.
Former Israeli prime minister Ehud Barak says the Albanese government should feel free to express any reservations about Israel's war with Hamas, arguing that his nation needs honest friends rather than mindless barrackers.
One of the most important military and political figures in Israeli history, Barak said he believed rival Benjamin Netanyahu was on borrowed time as prime minister and would eventually be forced from office for the catastrophic intelligence failure that led to Hamas' October 7 massacre of Israelis.
Former Israeli prime minister Ehud Barak believes his successor Benjamin Netanyahu will be forced out of office. Credit: AFP
A long-time advocate of a two-state solution, Barak said the creation of a Palestinian state remained the only viable way to ensure Israel's long-term security, but that the current Israeli government had sought to avoid this outcome in what he described as a "tragic, historic mistake".
Barak, who served as prime minister from 1999 to 2001, said Israel would expect Australia's support in the war given the two countries shared many "basic values" and were both proud democracies.
"At the same time, I would expect you to tell us honestly what you think about it, not to eliminate all reservations," he said in an interview from his office in Tel Aviv. "We are now at war [with Hamas] and know we should be focused, but it is worth hearing the sober observations of friends."
Underlining the tense mood in Israel, air-raid sirens sounded during the interview, leading Barak's wife to seek shelter in his study, which serves as a reinforced safe room.
Barak said the Israeli government's failure to foresee the October 7 attacks, which led to the deaths of more than 1400 people in Israel, represented a monumental intelligence failure, and that responsibility goes "up to the top".
"Somehow we failed in the very contract between the government and its citizens, which is to protect them when they go to bed to sleep at night," he said.
"Netanyahu has totally lost the trust of the people; even his own voters see him as responsible for this blunder.
"All the experienced players in the region, including in the White House, do not really trust Netanyahu, especially as long as he has these extremely racist, messianic parties as a keystone of his coalition. Without them, he falls down."
Supporters of Israel attend a Melbourne rally in solidarity for the victims of and hostages held by Hamas in Gaza.Credit: Getty
Barak compared senior ultra-nationalist and pro-settler Netanyahu cabinet members Itamar Ben-Gvir and Bezalel Smotrich with the members of the US far-right Proud Boys group.
"It drives crazy every sober citizen who sees what damage they are causing day by day," he said.
Barak was a rival to Netanyahu as a leader of Israel's centre-left Labor Party but served as his defence minister from 2009 to 2013. He is one of the most highly decorated soldiers in the country's history and served as commander-in-chief of its military from 1991 to 1995.
Barak said Netanyahu had sought to prop up Hamas as a way to undermine the more moderate Palestinian Authority in the West Bank and any moves towards the creation of a Palestinian state. (Netanyahu has been quoted making this argument at a 2019 gathering of his Likud party.)
"We are now at war. It's not the ideal time to deal with it. But in a normal country, Netanyahu would have resigned the next morning after the seventh of October," Barak said.
"I believe that the public will eventually do it [remove Netanyahu]."
A poll conducted for Israeli newspaper Ma'ariv over October 18-19 found that 80 per cent of Israelis believe Netanyahu should take responsibility for the attacks. The poll showed him lagging in support behind Benny Gantz, the head of an opposition centrist party who has joined the unity wartime government.
Barak proposed an ambitious peace deal at the 2000 Camp David summit – including handing over control of most of the West Bank and Gaza to the Palestinian Authority – but it was rejected by then-Palestinian leader Yasser Arafat.
Ehud Barak, then the Israeli prime minister, with US president Bill Clinton and Palestinian leader Yasser Arafat as they tried and failed to strike a historic peace deal at Camp David in 2000. Credit: AP
Those proposing the creation of a single state encompassing the West Bank and Gaza were making a "tragic historic mistake", Barak said.
"I'm confident that the only viable kind of vision for Israel is the two-state solution," he said.
"Not just because of justice for the Palestinians, as important as that is, but for Israel's security, its future and its identity.
"Inevitably, a single state would either be non-Jewish or non-democratic and that is not the Zionist dream."
But Barak defended the Israeli military's operations that seek to wipe out proscribed terror group Hamas from Gaza, saying the defence force did its best to minimise civilian casualties as much as possible.
"We have to understand that Hamas is responsible for both the victims of the [October 7] massacre and the loss of life of innocent people now in Gaza.
"We have to kill the Hamas leaders and destroy their military capability. We cannot allow them to get de facto immunity by using their own citizens as human shields."
Barak said that after taking control of Gaza, Israel should establish a multinational coalition including Egypt, Saudi Arabia and Jordan to run the enclave before handing over responsibility to the Palestinian Authority, which currently has responsibility for the West Bank.
Get a note directly from our foreign correspondents on what's making headlines around the world. Sign up for our weekly What in the World newsletter.
Most Viewed in World
From our partners
Source: Read Full Article