SNP slammed for 'abject failure' rent controls that have driven rents sky high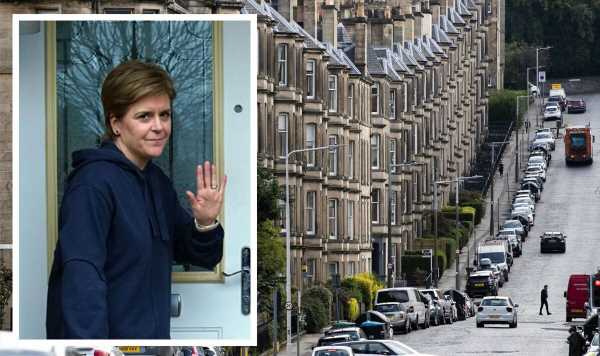 Penny Mordaunt brutally takes down SNP
Nicola Sturgeon's policy of capping rents in Scotland has massively backfired, with rent rises now hitting record levels and accusations the SNP have brought to buy-to-let market to "breaking point".
The rent freeze policy was introduced by the SNP-Green government in September 2022, voiding any increase in payments from the date of introduction to the end of March 2023, on top of a moratorium on evictions.
Since April this year, rent increases have been capped at three percent, but rent rises for all private tenancies in Scotland is now at six percent – the highest since records began.
New rental data from Homeless also shows the average rental value of new properties in Scotland rose by 14.4 percent in the year to August – even higher than London.
Average rent across the country is £985 – £124 more than a year a go.
READ MORE: Sadiq left red-faced after only hitting housing target thanks to Boris Johnson
Campaigners now accuse the rise of being down to a loophole but insist changes to include new tenants in the limited rate rise as well as existing tenants will improve the scheme – despite similar results being seen wherever rent caps are attempted.
The Scottish Tenants Organisation has said the SNP's scheme is "badly flawed" and needs to be changed.
They said: "This loophole should have been covered by the new extension but it has not. There should be no exceptions.
"The loophole shows it is a poorly thought out rent cap and reflects more of the concerns of landlords rather than tenants."
However right-leaning campaigners say no changes will improve the rent control, as wherever they have been tried in the past they have crashed the renting market and pushed costs up.
Don't miss…
Lib Dem conference row sparked over 'nonsense' Brexit campaigning[LATEST]
Keir Starmer humiliated as another screeching Labour U-turn exposed[LATEST]
Lib Dem 'freak show' told to move to Brussels after Three Lions insult[EXCLUSIVE]
We use your sign-up to provide content in ways you've consented to and to improve our understanding of you. This may include adverts from us and 3rd parties based on our understanding. You can unsubscribe at any time. More info
Matthew Lesh, Director of Public Policy at the Institute of Economic Affairs blasted the SNP's left-wing policy.
He said: "Rent control has been proven an abject failure every time in every place it has been tried. Scotland is no exception.
"It's unsurprising that landlords are continuing to put up rents between tenancies, and in fact it is likely that landlords are kicking out tenants to do so.
"If Scotland goes further with rent controls by applying it to new tenants, the result will be a worsening of Scotland's rental crisis, as properties are pulled off the market and fewer are built in future."
Sadiq Khan has also demanded the powers to impose rent controls in London.
When tried in Berlin, real estate analysis revealed rent controls crashed supply by 41 percent and drove demand up to 172 percent.
It also led to a rent black market, where tenants would pay the capped rent amount but agree to an additional top-up rent paid to the landlord.
Last year, Ireland also imposed a rent rise cap of two percent, leading to average rents increasing by 10.3 percent to €1,524 per month.
The number of homes available also crashed, with just 716 properties available to rent in the entire country according to the property website DAFT in August 2022.
Source: Read Full Article