40 Tory MPs write to Chancellor demanding tax cut boost for shops and pubs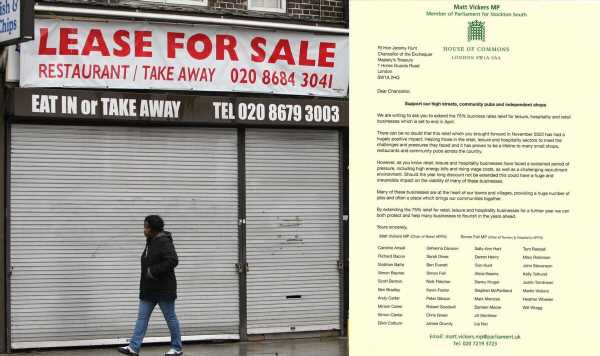 Jeremy Hunt tells Trevor Phillips 'there is so much defeatism'
40 Conservative MPs have written to Jeremy Hunt demanding an extension of tax relief for high street businesses.
The letter comes ahead of Wednesday's Autumn Statement, which is now expected to deliver tax cuts after the Prime Minister delivered a speech this morning promising them.
Stockton MP Matt Vickers, chair of the all-party parliamentary group for retail, leads the charge, asking the Chancellor to extend the 75 percent business rates relief for leisure, hospitality and retail businesses.
The relief was originally brought forward by the Chancellor in November 2022, and is set to end next April.
The letter, signed by senior conservatives including Sir Simon Clarke, Alicia Kearns and Will Wragg – as well as former ministers Simon Baynes, Dehenna Davison and Stephen McPartland – warns the Government that failing to extend the relief could have a "huge and irreversible impact" on high street businesses.
READ MORE: Rishi Sunak confirms tax cuts are coming in Autumn Statement
Mr Vickers' letter commends the impact of the Government's rate relief since it was brought in, saying it has helped those in retail, leisure and hospitality "to meet the challenges and pressures they faced".
"It has proven to be a lifeline to many small shops, restraints and community pubs across the country".
However, they warn the industry has continued to face a "sustained period of pressure", citing high energy bills, rising wage costs, and the challenging recruitment environment.
"Many of these businesses are at the heart of our towns and villages, providing a huge number of jobs and often a place which brings our communities together.
"By extending the 75 percent relief for retail, leisure and hospitality businesses for a further year we can both protect and help many businesses to flourish in the years ahead."
Don't miss…
Met deployed and taxi expenses boosted following MP security threats over Gaza[LATEST]
Jeremy Hunt's triple lock pressure as Labour demands answers over Tory leak[LATEST]
Rishi Sunak confirms tax cuts are coming in Autumn Statement[LATEST]
Support fearless journalism
Read The Daily Express online, advert free
Get super-fast page loading
The original rates relief scheme, announced in November 2022, was worth around £2.1 billion in 2023/24.
It provides eligible, occupied, retail, hospital and leisure properties with a 75 percent relief up to a cash cap limit of £110,000 per business.
A Treasury spokesman refused to comment on what measures may be announced in Mr Hunt's Wednesday statement.
This morning, PM Rishi Sunak said the public can finally expect to reap the rewards of the tough decisions taken by the Government over the last year to halve inflation.
The speech outlined that tax cuts can now finally go ahead on Wednesday, though he refused to specify what measures will be announced by the Chancellor.
In a social media post following his speech, No. 10 said that the Government will "reward work, by cutting taxes".
The wording suggests Jeremy Hunt will focus on income tax or national insurance, rather than inheritance tax as had been speculated on for the last week.
Source: Read Full Article