SAG-AFTRA & Studios Negotiations To Continue Friday & Next Week; Talks Proceeding "Calmly"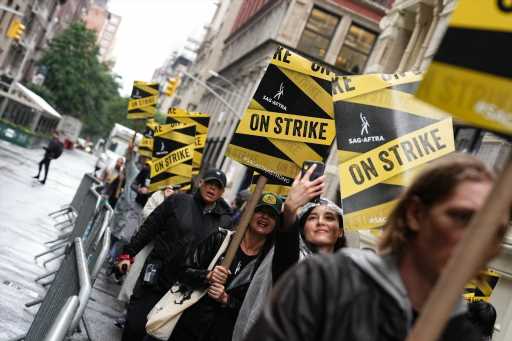 SAG-AFTRA and the Alliance of Motion Picture and Television Producers on just wrapped their second day of renewed talks over a new three-year contract with a plan to meet again on Friday and even further down the line.
"SAG-AFTRA and the AMPTP met for a full day bargaining session and have concluded," the parties said in a joint statement tonight. "Negotiations will continue Friday, October 6, with the parties working internally over the weekend, resuming Monday, October 9."
As they did Monday, SAG-AFTRA leadership sat down with studio CEOs and AMPTP boss Carol Lombardi Wednesday to move forward on ending the actors' strike, which will reach its 85th day tomorrow. Talks got off to a late start today, one source informs us.
Related Stories
SAG-AFTRA's Duncan Crabtree-Ireland Heads To New York Comic Con For AI Discussion
'One Piece' Co-Showrunner Matt Owens Gives Major Season 2 Update, Talks Jamie Lee Curtis As Dr. Kureha, Buggy's Viral Fame & Why Series Is So Personal To Him
"This is senior people sitting down together and the deliberations are going well," said an industry insider of Wednesday's negotiations. "Everyone is conducting themselves calmly."
As made clear in their statement just now, the parties intend to meet again at SAG-AFTRA headquarters on the Miracle Mile on Friday, with the CEO Gang of Four anticipated to be in attendance
That sit-down will be followed by deliberations among the respective principals themselves over the weekend and a resumption of formal talks between both sides on October 9 — the same day the WGA's vote on ratifying their tentative agreement with the studios ends. After nearly five months on strike and five days late last month of final negotiations, that vote is widely expected to pass by an overwhelming majority from the scribes
While the sides are still bargaining over several issues, SAG-AFTRA's proposal of revenue sharing has continued to prove a tricky challenge in this latest round of talks. As it has since the parties first set of negotiations in July, the actors guild wants the casts of successful streaming shows to receive 2% of profits. As they have since this summer and consistently since SAG-AFTRA went out on strike n July 14, the AMPTP have rejected the proposal due to difference over analytics, ricks and their take on the overall business model of streaming.
Similar to Monday, in attendance today at SAG-AFTRA's Wilshire headquarters included the CEO Gang of Four — NBCUniversal's Donna Langley, Warner Bros Discovery's David Zaslav, Netflix's Ted Sarandos and Disney's Bob Iger — as well as Lombardini, SAG-AFTRA National Executive Director and Chief Negotiator Duncan Crabtree-Ireland, and SAG-AFTRA's longtime Chief Contracts Officer Ray Rodriguez.
As members were again out on the picket lines today, SAG-AFTRA on Tuesday afternoon posted a message from Crabtree-Ireland, the TV/theatrical negotiating committee, strike captains and lot coordinators at the Warner Bros pickets Burbank, CA lot to celebrate the return to talks and that the union is "SAG-AFTRA strong."
"We're going to bring this home," Crabtree-Ireland said in the post, while urging members to continue at the pickets and solidarity events.
Earlier today, SAG-AFTRA said Crabtree-Ireland would be traveling to New York Comic Con to participate in the October 14 panel "AI in Entertainment: The Performer's Perspective," which will cover how existing legal structures can be used in some areas and how new standards need to be built for performers and producers to collaborate while still protecting individual rights to performance and publicity.
Crabtree-Ireland will discuss how SAG-AFTRA is approaching the issue, the laws surrounding the technology, and its role in the current strike and recent strike authorization vote on the Interactive Media Agreement that covers members' work on video games.
That NYCC panel will undoubtedly pick up on some of the statements Crabtree-Ireland made Tuesday in a hearing before the Federal Trade Commission on AI. Described by the FTC last month as a "virtual roundtable discussion," the session Wednesday heard DCI slam what he termed the "double standard" of tech companies. Stepping out of talks with the AMPTP today for a spell, Crabtree-Ireland pointed out the contradiction in corporatoon that feel free to troll intellectual property for AI algorithm training, but would certainly balk if something similar was done to them and their content.
The union official returned to the in-person talks in LA after his remarks to the FTC Wednesday.
Must Read Stories
Netflix Biz Affairs Shakeup: Four Execs Out In Restructure
Pete Davidson, Bad Bunny Among Season 49 Hosts; New Castmember; Che & Jost Update; Premiere Date
Wolf Entertainment Opens Eight Writers Rooms, Sets Showrunners For 'Chicago Fire' & 'FBI: International'
'Drew Barrymore Show' Sets Return Date Without Head Writers; New Scribes Sought
Read More About:
Source: Read Full Article