NVIDIA Teams With Foxconn To Boost AI Industrial Revolution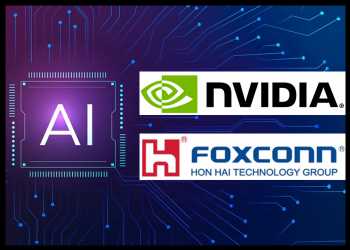 Tech major NVIDIA Corp. is collaborating with Taiwanese electronics contract manufacturer Foxconn, also known as Hon Hai Technology Group, aiming to accelerate the industrial revolution in artificial intelligence or AI.
Under the deal, Foxconn, which is also Apple's key iPhone assembler and supplier with major operations in China, will integrate NVIDIA technology to develop a new class of data centers powering a wide range of applications. These include digitalization of manufacturing and inspection workflows, development of AI-powered electric vehicle and robotics platforms, and a growing number of language-based generative AI services.
The collaboration starts with the creation of AI factories, as announced by NVIDIA founder and CEO Jensen Huang and Foxconn Chairman and CEO Young Liu.
This includes an NVIDIA GPU computing infrastructure specially built for processing, refining and transforming vast amounts of data into valuable AI models and tokens.
As part of the collaboration, Foxconn is also developing its smart solution platforms based on NVIDIA technologies. Foxconn Smart EV will be built on NVIDIA DRIVE Hyperion 9; Foxconn Smart Manufacturing robotic systems will be built on the NVIDIA Isaac autonomous mobile robot platform; and Foxconn Smart City will incorporate the NVIDIA Metropolis intelligent video analytics platform.
Foxconn is expected to build a large number of systems based on NVIDIA CPUs, GPUs and networking for its global customer base, which is looking to create and operate their own AI factories, optimized with NVIDIA AI Enterprise software.
Huang said, "A new type of manufacturing has emerged — the production of intelligence. And the data centers that produce it are AI factories. Foxconn, the world's largest manufacturer, has the expertise and scale to build AI factories globally."
Last month, NVIDIA teamed with India's Reliance Industries to develop the country's own foundation large language model trained on its diverse languages and tailored for generative AI applications.
NVIDIA also announced an extensive collaboration with Tata Group to deliver AI computing infrastructure and platforms for developing AI solutions.
Source: Read Full Article