'What a shame': When a couple turned down property conman Terence Nugara, he teased them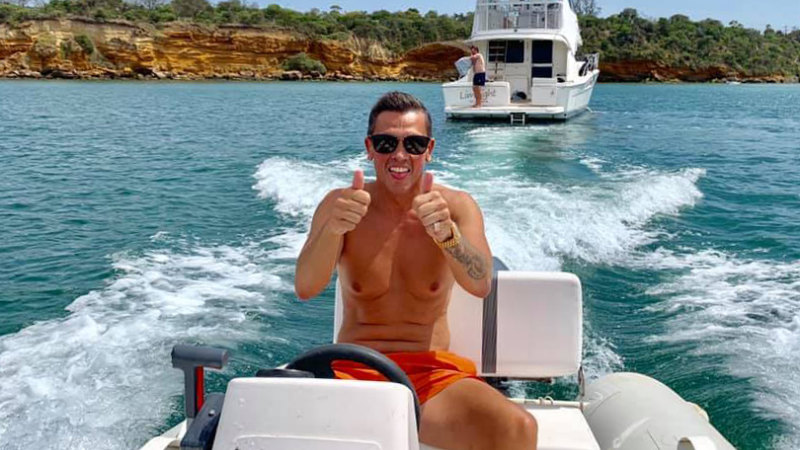 Save articles for later
Add articles to your saved list and come back to them any time.
Like many before them, Jane and Gerard* sat in the lavish boardroom of financial advisor Terence Rienzo Nugara's Brighton offices overlooking Bay Street, sipping on supplied drinks and listening to his slick real estate pitch.
It was about a year before the 50-year-old would bundle his stolen money together and fly overseas, leaving a trail of broken victims more than $10 million poorer. Meanwhile, Nugara spent the proceeds that he promised would be invested in the safe property schemes he spruiked, splashing out on the high life: yachts, high-performance cars and $400 bottles of Dom Perignon.
Terence Rienzo Nugara conned his victims of more than $10 million.
It was in June 2018 that Gerard, sitting in the long boardroom, got the sense that something was wrong.
"It was sounding too good to be true," he says of the meeting five years later.
Jane and Gerard have since watched in horror as 38 victims of his deception between October 2014 and January 2019 unloaded their contempt and hatred for Nugara, a former financial advisor, who was paid a total of $10,072,061.93.
To clients, he was known affectionately as "Rio".
In court, dozens of victims detailed the litany of ways that Nugara destroyed their lives. The pair is now thankful that they trusted their gut and walked away from the fraudulent scheme when they had the chance.
On Thursday, Nugara was sentenced to nine years and 11 months in prison, after pleading guilty last week to 37 charges of obtaining a financial advantage by deception and two of theft. He will be eligible for parole after 6½ years.
County Court judge Trevor Wraight told Nugara that he persisted in collecting large sums of money from victims – often their life savings – despite knowing that he could not repay them.
"Your offending can only be described as reprehensible, callous and selfish conduct," he said, "in my view, your moral culpability is very high".
Nugara was sentenced in the County Court on Thursday.
Wraight said that there was limited evidence of Nugara's remorse and insight.
With his millions, Nugara took off overseas in 2019, living for three years between Mexico, Costa Rica, Panama, Nicaragua, Sri Lanka and Singapore. The money he stole funded an extravagant lifestyle.
In Mexico, Nugara sought new investors in an online gambling platform, but was kidnapped in an extortion attempt. He sought help from the Australian embassy, where he learned about the warrant for his arrest.
Nugara encouraged investors to convert their superannuation to self-managed super funds, giving them flexibility to invest in his property deals.
But for Gerrard, the risk always seemed too extreme.
"Everything was going to be on the line – taking out more money, accessing equity of [our] house. We're too risk-averse for this, it's way out of our comfort zone."
In July 2018, he sent an email politely declining Nugara's investment opportunity.
"What a shame you won't be able to double your funds for retirement," Nugara teased, just 14 minutes later, according to emails reviewed by The Age.
Nugara enjoyed fast cars.
"I wish I could show you the future now … such a shame for you mate but in saying that I am always here for you and Jane if you have any needs in the future!"
Even years later, it bothers Gerrard.
"He was slick," Gerard recalls. He said Nugara would give people the impression that "I'm so clever, I've made so much myself, made so much for other people".
On Thursday, rather than face some of his victims who had attended the court to see him sentenced, he chose to tune in from prison.
"I think he's a son of a bitch, a f–king prick," a financial advisor and property developer who worked with Nugara tells The Age. He wants his name withheld, worried that an association with Nugara could impact his business.
He met Nugara in 2009 through people who would later become Nugara's victims, and is still staggered by his actions. He said one of the victims was a godmother to one of Nugara's young children.
"It was gut-wrenching," he said. "When arseholes like this come along, and do this sort of shit, it's very difficult. It makes it difficult for the honest brokers."
The developer said he cut ties with Nugara when the conman started to make claims that he couldn't possibly follow through on.
"He started to go loopy. He started making claims like promising that it would be done in two years and … [with] ridiculous returns," he said.
Nugara participated in some of Australia's premier motorsport categories, including the GT Trophy Series and the Australian Endurance Championships.
It was those ridiculous returns claimed by Nugara, who sometimes promised almost 100 per cent, that lured so many victims into his web of deceit.
Tracey Redman-Slater is an accountant mentioned in court documents. She set up several of the victims with Nugara, attended pitches with potential investors, and told this masthead that she felt sympathy for the victims.
"I'm sorry for the victims," she told this masthead, "I did not cause their losses".
The Age is not suggesting Redman-Slater knew of Nugara's fraudulent scheme or benefited from it.
Nugara had a good professional pedigree. He worked for Westpac, NAB and Commonwealth Bank before starting his own business, Skynet Financial Services, which shares a name with the fictional artificial intelligence system from the Terminator film franchise.
He is currently incarcerated at the Ravenhall Correctional Centre. But for his guilty plea, Nugara would have been sentenced to 13 years.
The case bears similarity to Sydney financial advisor Melissa Caddick, who also targeted people close to her.
Reflecting after the scandal, and how close the couple came to suffering the same fate as dozens of others, Gerard feels the scheme seemed more like gambling than investing.
"It's unnecessary to take that sort of risk, that crazy gambling risk. That's what it felt like, it felt like gambling," Gerard said.
"You're better off just working hard, and not looking for that great win."
* Last names withheld at the request of subjects.
The Morning Edition newsletter is our guide to the day's most important and interesting stories, analysis and insights. Sign up here.
Most Viewed in National
From our partners
Source: Read Full Article