Two schoolgirls admit assaulting 15-year-old black teen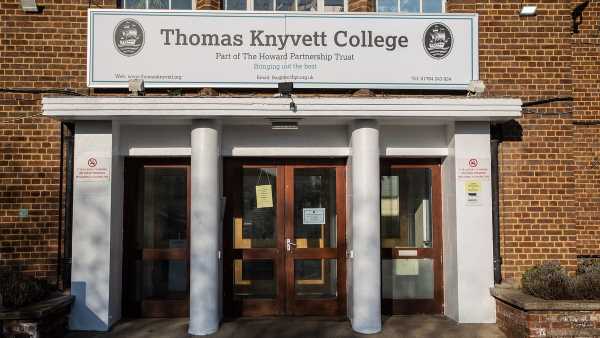 Two schoolgirls, 16, admit assaulting 15-year-old black teen but deny it was a racist attack after they were 'filmed calling her a monkey and pulling her braids out' in shocking footage
Two schoolgirls who attacked a pupil have admitted inflicting actual bodily harm

Video shows the victim being punched, kicked and having her hair pulled out 
Two teenagers have admitted assaulting a 15-year-old black girl outside a school in a shocking attack – but denied it was racially motivated. 
Both 16-year-old girls, who cannot be named, pleaded guilty to one count of assault occasioning actual bodily harm on the pupil outside Thomas Knyvett College in Ashford, Surrey, on February 6.
One defendant is alleged to have repeatedly called the girl a 'monkey' and said they were going to 'rip a dreadlock out of your big fat head' in a Snapchat video of the attack, which went viral. She denies that she was the one making the threats.
The girl also pleaded not guilty to racially aggravated assault and sending a threatening message to the black girl on Snapchat two days before.
The violent footage shows a group of young girls attacking a teenager in the middle of the street on a Monday afternoon
The victim had nine braids ripped from her head during the attack, it has been reported
The other defendant pleaded guilty to assaulting a second teenage girl by beating on the same day.
Appearing at Guildford Youth Court on Wednesday, the two schoolgirls spoke only to confirm their names, dates of birth and addresses before entering their pleas.
Magistrates were shown video of the assault which showed a black pupil being punched, kicked and having her hair pulled while her attackers were egged on by adults.
Prosecutor Amanda Burrows said the teenager who admitted both charges she faced was being 'encouraged to get involved' after she pulled back but was 'certainly involved' at the beginning.
Video showed that the defendant was told 'get on her' and 'that's it, that's it' by an adult.
The attack occurred close to Thomas Knyvett College, which has come under fire for not intervening quickly enough
The second victim said in an impact statement that she saw the same defendant assault the first victim while her co-defendant hit her, kicked her in the neck and pulled her hair out.
The girl also said one defendant dragged her onto the floor and kicked her in the thighs for around five minutes while she was on the floor.
The black pupil did not provide a victim impact statement but pictures shown in court revealed her braided hair had been pulled out at the scalp and her eyes were bruised.
Read more: Family 'at centre of Surrey school race attack' are branded 'neighbours from hell'
The response of staff led to a backlash and criticism by MPs and a protest was held outside the school two days after the attack happened.
Chairwoman of the bench Sue Hodnett bailed the defendant who admitted all charges until she is sentenced at the same court on November 22.
The other defendant, who was also bailed, will stand trial on a date to be fixed and be sentenced for the offence she admitted later.
The family said to be at the centre of a school race attack in Surrey were later branded 'neighbours from hell' by locals who said they 'gone into hiding' after the assault.
Locals in Stanwell claim they have been plagued by a campaign of intimidation and anti-social behaviour from the family, made up of a mother in her 30s and three daughters, and said local people are 'terrified of them.'
Furious protestors held a rally outside Thomas Knyvett College in Ashford, Surrey, oafter the attack and later marched to the family address less than two miles away in Stanwell.
Raspect Fyahbingh from For Ever Family speaks outside Thomas Knyvett College in Ashford, Surrey, following a 'racist' attack against a black schoolgirl 
Eyewitnesses said one angry demonstrator tried to kick down the front door of the property during heated scenes.
One neighbour told MailOnline: 'They really are the neighbours from hell. There are people here who just want to move because they have had enough. They can't take it any more.
'People are terrified of them. We just hope they never come back.'
Locals said the family had not returned to the modern three-bedroom property since the incident.
Source: Read Full Article