Rishi Sunak calls Cobra meeting as he vows to 'support' Israel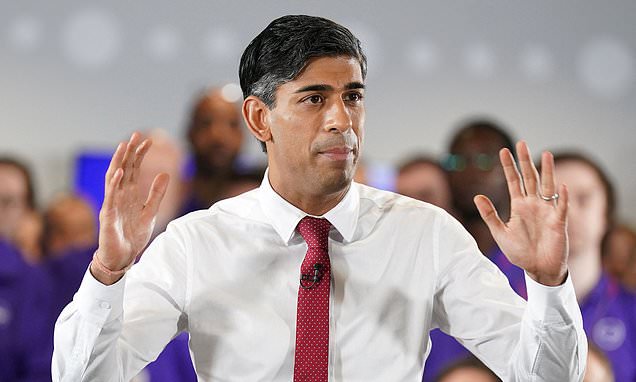 Rishi Sunak calls Cobra meeting as he vows to 'support' Israel with military kit and intelligence resources after Hamas attack
Follow all the latest developments in the Israel crisis on MailOnline here 
Rishi Sunak is holding a Cobra meeting today as he vows to support Israel with military kit and intelligence resources.
The PM will convene the emergency committee as the death toll rises in the aftermath of the bloody attacks by Hamas.
At least 700 people are feared to have been killed in Israel and more than 400 in Gaza, after the terrorist group launched its surprise assault – slaughtering citizens and taking hostages.
Among the dead was 20-year-old Nathanel Young, a Briton serving in the Israeli Defence Services who died at the Gaza border on Saturday.
Israel has intensified its bombardment of the Gaza Strip after declaring war and vowing to destroy the 'military and governing capabilities' of Hamas.
Rishi Sunak will convene the emergency committee as the death toll rises in the aftermath of the bloody attacks by Hamas
Shocking footage from the aftermath of the attack shows festival tents empty, with abandoned cars of those trying to escape strewn on the side of the road
A missile explodes over Gaza City last night as Israel carries out airstrikes following Hamas' attack 
Mr Sunak said that the UK was in 'close dialogue' with Israel over any support it needed, after holding a phone call with Israeli prime minister Benjamin Netanyahu on Sunday.
'We already have a very long-standing relationship with Israel, we're one of their strongest allies.
'We've provided in the past the kinds of equipment that they've used to defend themselves over the past couple of days.
'And as I said to the Prime Minister, we will continue to provide – whether that's diplomatic, intelligence or security support – as they need.
'I'm chairing a Cobra with my ministerial colleagues this afternoon, when we'll continue to discuss the situation, but we're in close dialogue with our Israeli counterparts', he told a business event in Newark, Nottinghamshire.
Two other UK nationals – 26-year-old Jake Marlowe, who went to the same London school as Mr Young, and photographer Dan Darlington – are believed to be missing.
The Government is helping the families of several individuals in Israel and the Occupied Palestinian Territories, it is understood.
The Foreign Office has advised against all but essential travel to the region due to the conflict.
Mr Sunak said it is a 'complex' situation, as he acknowledged many will have concerns about family members caught up in the conflict.
'I know it will be an anxious time for many families who have loved ones in the region,' he said.
'It's a quite complex situation on the ground, so we are working very closely with our Israeli counterparts to establish the status of any British nationals on the ground.
'That work is under way as we speak.'
Mr Young, a former pupil at JFS Jewish School in north London, died after a surprise attack by Palestinian militants caught Israel off-guard on a major holiday.
His loved ones said they are 'heartbroken', while the father of Mr Darlington said he believes his son, who was visiting from his home in Berlin, Germany, is missing.
Footage showed hostages apparently being taken by Hamas militants into Gaza over the weekend
A woman in Tel Aviv picks her way through rubble late on Saturday
Mr Marlowe was reported missing while providing security at a music festival near Kibbutz Re'im, close to the Gaza border.
It comes as Communities minister Lee Rowley warned any potential protesters not to 'glorify' the violence of Hamas.
On Monday, Labour's shadow chancellor Rachel Reeves also condemned the attack
She told Times Radio: 'Israel has been attacked by terrorists. It has every right to defend itself, get its hostages back and protect its citizens.'
Israel's defence minister has ordered a 'complete siege' on the Gaza Strip, saying authorities will cut electricity and block the entry of food and fuel.
Authorities in Israel are said to be in 'control' of the border communities, with no fighting going on as of mid-morning on Monday.
All UK Government buildings were asked to light up in Israeli blue and white on Sunday evening, with the country's flag projected on to the outside of No 10 in a show of support.
Source: Read Full Article