Residents form 'Swan Patrol' to help family of birds across busy road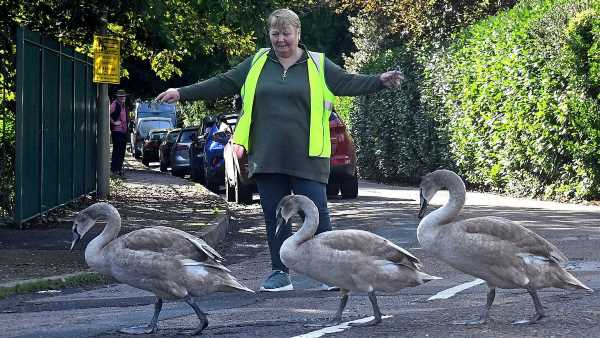 Market town residents form 'Swan Patrol' to guide family of birds across a busy road after cars hit and killed two cygnets
Concerned locals have formed a 'Swan Patrol' to guide birds across a busy road
Up to 12 residents in Bishop's Waltham, Hampshire, work shifts to watch swans
The group was formed after two young cygnets were hit and killed by motorists
Residents of a market town have formed a 'Swan Patrol' to guide a family of swans across a busy road after two cygnets were hit and killed by passing cars.
The team of 12 work in two hours 'shifts' between them from 7am until 7pm to repeatedly halt traffic so the birds, which have 'no road sense', can safely cross.
Members admit that since starting some frustrated motorists have 'shouted abuse' at them but the overall reaction from locals in Bishop's Waltham, Hants, has been positive.
Sue Eyles, 69, set up the group around five weeks ago after she heard the two young cygnets had been killed.
The retired NHS office manager said: 'I thought, I will bring a high-viz and I will see them across the road.'
Swan Patrol member Jean Bown (pictured) help the family of swans cross the road safely after two cygnets were hit and killed by cars and a third was badly injured
Swan Patrol member Colin Brown is seen keeping a watchful eye over the family of swans after helping them cross the busy road to their favourite pond
The family of swans in the small town near Fareham, Hants, live near a pond – which is split between a north and south side.
To travel between each pond, they have to cross a busy road and sadly three cygnets were not long ago hit by cars.
Christine Trigg, 59, volunteers with the group and said: 'The main reason we are doing this is because of the swans that died.
'One died and the other was so badly injured, the RSPCA had to euthanise it…'
The third cygnet that was hit is recovering at a swan rescue centre in Windsor, Berks.
Since Ms Eyles started watching over the swans in her free time the group has grown to a dozen members. 
They use a WhatsApp group to allocate 'shifts' and ensure the two adult swans and five baby cygnets are being monitored as much as possible.
Volunteers said the overall reaction has been pretty positive but they do get the 'occasional idiot' who 'shouts abuse'.
Discussing one recent incident, Ms Eyles said: 'There is the odd bit of abusive behaviour.
'Recently, somebody threw something out their car window at me. I'm not too sure what it was.
'But, you do also get people who say 'brilliant job' and are positive.'
Retired Carer Deane Bevan, 66, works the 'early shift' – from 7am to 9am – every morning.
Swan Patrol members are seen looking after the two swans and the five younger cygnets
He said: 'The swans have got no road sense and they eat the grass on the verges. So, it's just an attempt to slow traffic down just in case.
'We basically wave and signal at cars to slow them down, and somebody will stop. Then we step into the traffic and try to slow the other side down.'
The father of four added: 'Mostly the motorists are very good. You get the occasional idiot.
'The best ones are truck drivers because it's a big vehicle, and they are pretty responsible if you ask them to slow down.
'Truckers do react very well. Nine times out of 10, if you ask cars to stop so they can cross the road it's a trucker that stops.'
Colin Bown, 76, and Jean Bown, 70, also volunteer in the patrol and said they will watch over the swans in 'rain or shine'.
Mr Bown said the cygnets were born in the spring and are around five months old.
Discussing what will happen when they are fully grown, Ms Eyles added: 'Once they have fledged, we won't have to be here until next year.'
Swans fledge – leave their parents – when they are between five to 10 months old.
Ms Eyles said when this happens, she hopes to return next year with the group so they can watch over the next lot of cygnets.
Source: Read Full Article