Police examine death of Army soldier during 'brutal' training exercise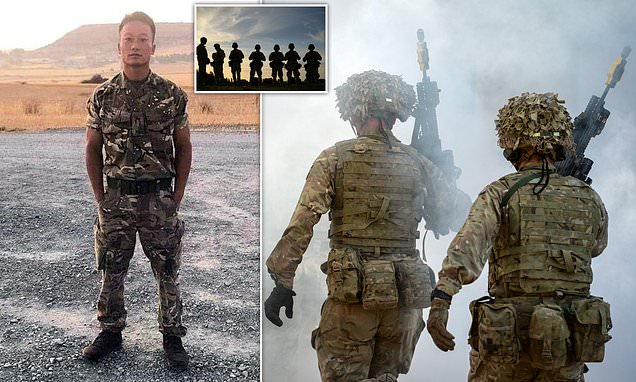 Police to investigate the death of Army soldier who collapsed during a 'brutal' training exercise
Private Nabin Thaba, 35, collapsed and died after a series of exhausting drills
Police are to investigate the death of an Army soldier during a 'brutal' training exercise, the Mail can reveal.
Witnesses said Private Nabin Thapa, 35, of the Royal Logistics Corps, collapsed and died following a series of exhausting marches and battle drills.
Colleagues of Thapa claim Army instructors added additional serials to the training programme which allegedly caused his death.
A probe into what happened at the Driffield Training Area in East Yorkshire on September 21 will be led by detectives from Humberside Police.
Thapa's death came the day after another British soldier died on a separate exercise.
Private Nabin Thapa, 35, of the Royal Logistics Corps, collapsed and died following a series of exhausting marches and battle drills according to witnesses
Soldiers demonstrate wade through thick smoke wearing EXO Insight glasses during a drill in Salisbury
READ MORE: MILITARY LAUNCHES INVESTIGATION AFTER SOLDIER DIES AT TRAINING BASE IN WALES
Private Adam Brocklehurst, from the Infantry Training Centre Support Battalion, died at Sennybridge in Wales on September 20.
Thapa, from Nepal, joined the British Army in March 2019.
He was married and belonged to 6 Regiment RLC, based at Dishforth in North Yorkshire.
According to Army sources, his colleagues were furious about his death and accused their superiors of welfare failures.
Thapa was taking part in what soldiers called 'CT Bravo', a continuation training exercise.
A source said: 'Thapa collapsed after the instructors decided to thrash everyone even though the exercises was supposed to be finished.
'We all did extra attacks and firing drills. It was brutal. That's why police are involved.'
The civilian police probe takes precedence over any inquiries by military police.
Between January 2000 and August 2022, 155 UK troops lost their lives on military exercises, of which 104 were soldiers.
In that time, the Ministry of Defence is understood to have breached Health and Safety Executive regulations at least 40 times.
In 2013, SAS reservists Lance Corporal Craig Roberts and Trooper Edward Maher died during an exhausting march over the Brecon Beacons in extreme temperatures.
Army recruits take part in a training session called 'The battle of Innoculation training' with members of Britain's Royal Marines
A drill at Ministry of Defence (MOD) training base in southern England
Soldiers from 4th Regiment Royal Artillery take part in a Regimental physical training session on Saltburn beach
Corporal James Dunsby died from multiple organ failure in hospital. Ten other soldiers suffered heat exhaustion.
A subsequent HSE investigation exposed a litany of risk assessment and planning failures.
Three years later, Corporal Joshua Hoole died of heat exhaustion after a similar march at the same location.
The number of deaths have led to families of the deceased demanding the Army loses its Crown immunity against prosecution.
Last night, the Army released official tributes to Thapa from colleaguesin 6 Regiment, but did not reveal the circumstances of his death.
Lieutenant Colonel Jen Lockett, Commanding Officer of 6 Regiment, said: 'Private Nabin Thapa's devastating death is felt very deeply. Private Thapa achieved an incredible amount since he joined the Army, including an operational deployment with the United Nations in Cyprus.
'He was an extremely hardworking and dedicate soldier who led by example. Often found using his knowledge to develop more junior soldiers, he was well-respected and a popular member of the regiment.
'He will be greatly missed. Private Thapa's family have our deepest condolences and are in the regiment's thoughts at this tragic time.'
Private Ramjali said: 'Nabin Thapa was like a big brother to me. I remember going to his wedding and dancing with him and his family. He was the happiest man in the world on that day. It feels like it was yesterday. He will always be remembered in our hearts, minds and souls as a loving and caring person.'
An Army spokesman said: 'The circumstances surrounding this death are being investigated by the civil police and it would be highly inappropriate to comment any further at this time.'
Source: Read Full Article