Judy Murray said she fixed grammar of former Strictly partner's book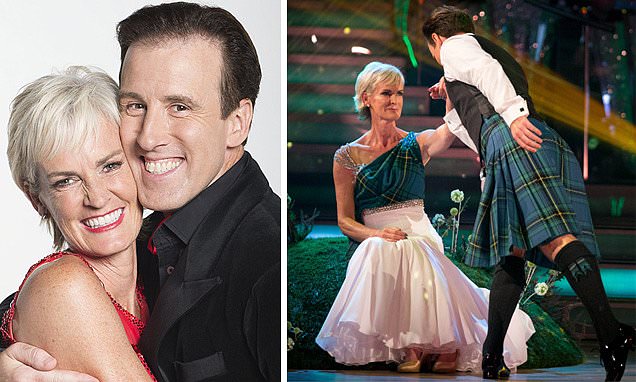 Judy Murray reveals she corrected the spelling and grammar of her former Strictly partner's book when he sent it to her just to see what she thought
 The mother of tennis aces Andy and Jamie admits she is a 'grammar geek' and couldn't resist getting the red pen out for the manuscript
Reveals Wimbledon hero Sir Andy thought she would be 'rubbish' on the hit dance show 
When Anton du Beke sent the first draft of his novel to former Strictly partner Judy Murray he might have expected kind words, a well done, and maybe some suggestions.
But instead the dancing ace received a manuscript which was covered in red pen pointing out spelling errors, grammatical corrections and parts she just didn't think worked.
The coach, mother to tennis stars Sir Andy and Jamie Murray, was partnered with the professional dancer in 2014's Strictly Come Dancing but crashed out in week eight.
Now the 64-year-old revealed at the Wigtown Book Festival, in Wigtownshire, she helped save the Strictly star from potential embarrassment in one of his ballroom-inspired novels.
Ms Murray, who has just released her first fiction book The Wild Card, said: 'He sent me a proof copy of it before it came out. He says: "Partner", that's what he always calls me which I absolutely love, "Partner, have a read of this and tell me what you think".
Judy Murray and Anton du Beke struck up a friendship on Strictly Come  Dancing
'And, of course during Covid, like everybody else, I wasn't doing very much. I love to read, I'm a spelling geek, I'm a grammar geek, I'm a vocabulary geek. He didn't know any of that.
'So I read his book and I'm going through it with a red pen and turning down the pages and I send it back to him.
'And so he phones me up and he goes: "I just got my book back. Why couldn't you just have said: Well done Anton, that was great?"'
Ms Murray already had one book to her name, autobiography Knowing the Score: My Family and Our Tennis Story, and she told the annual book festival it was du Beke who said she should write a novel.
It led to her penning The WIld Card, her debut thriller based around lead character Abigail Petterson who put her tennis career on hold to have her son.
That is until a wild card entry to Wimbledon sees her swept up in a world she thought she had left behind.
Judy and Anton crashed out of Strictly in week 8 in 2014
With the latest series of Strictly having just started, and 57-year-old du Beke now serving as a judge, Ms Murray revealed the moment she told her sons her intention to go onto the prime-time programme.
'I took the easy options first and I asked Jamie. I said "Jamie I have been asked to do Strictly and I can't stop smiling." and he's going "mum you love Strictly are you going to do it?"
'And I went, "well, what do you think?"
'He went "You love it, you love Strictly, you should do it. You'll have a great time".
'So then I went to Andy and he did the ten second stare, and I thought this is not going to be so easy. And I waited for him to speak, and he went "Oh my God. You will be crap".
'And they were both right because I loved it and I was crap.'
Source: Read Full Article