Hospital blast 'kills 500' in Gaza after dire warnings from Iran over bombing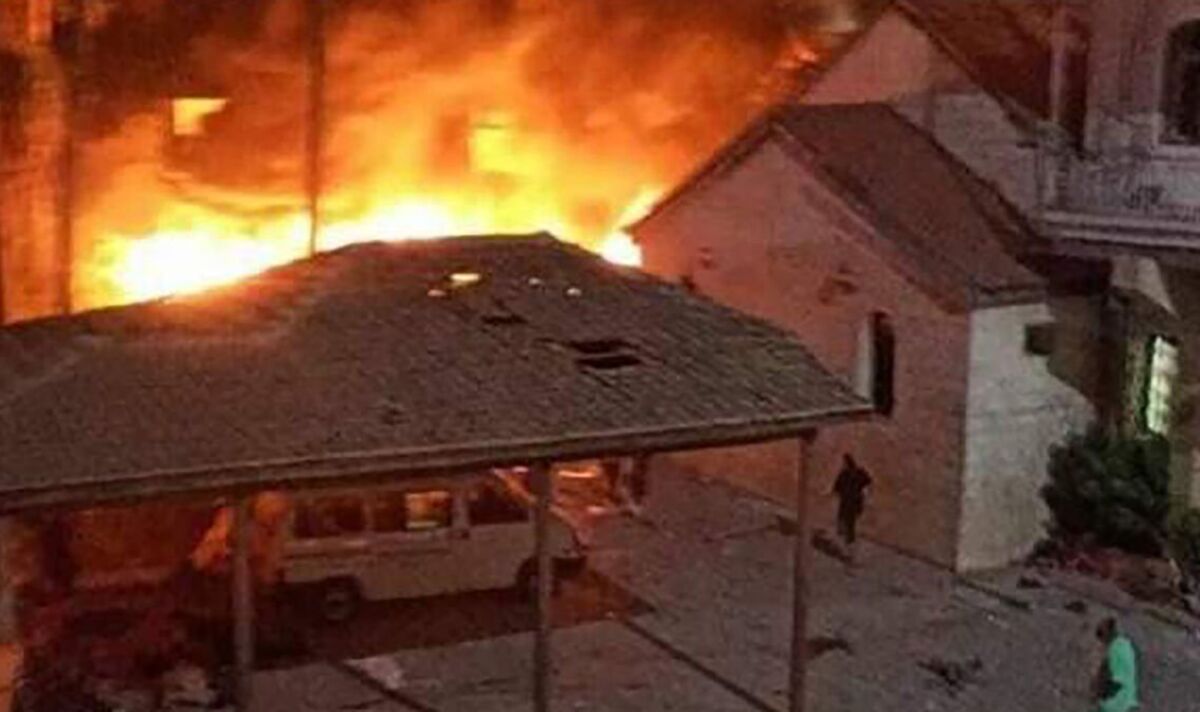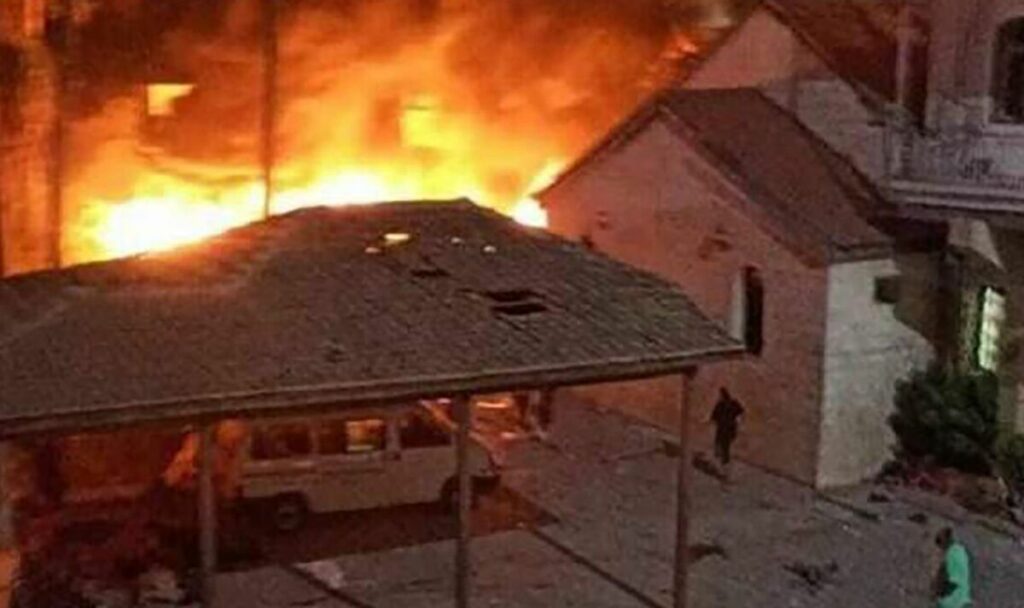 An explosion that reportedly 'killed at least 500' people at a hospital in Gaza City was caused by a barrage of rockets fired from the Palestinian side, the Israeli army claims.
If the blast had been from Israel, the attack on the al-Ahli Baptist Hospital would be by far the deadliest Israeli airstrike in five wars fought since 2008.
Unverified photos from al-Ahli Hospital showed fire engulfing the hospital halls, shattered glass and body parts scattered across the area.
Several hospitals in Gaza City have become refuges for hundreds of people, hoping they would be spared bombardment after Israel ordered all residents of the city and surrounding areas to evacuate to the southern Gaza Strip.
The Israeli Defence Force (IDF) has denied the explosion was caused by its military and has instead blamed a rocket barage fired from the Palestinian side.
A spokesperson said: "An analysis of IDF operational systems indicates that a barrage of rockets was fired by terrorists in Gaza, passing in close proximity to the Al Ahli hospital in Gaza at the time it was hit.
"Intelligence from multiple sources we have in our hands indicates that Islamic Jihad is responsible for the failed rocket launch which hit the hospital in Gaza."
The Palestinian Islamic Jihad (PIJ) has denied Israeli suggestions it was responsible for a blast.
Salama Marouf, a spokesperson for Hamas said: "A new war crime committed by the (Israeli) occupation by bombing the Al-Ahli Hospital in the center of Gaza City. The hospital was housing hundreds of patients, wounded, and those forcibly displaced from their homes due to the strikes."
The unverified report from the Palestinian health agency, which is run by Hamas, comes as earlier today Iran's supreme leader Ayatollah Ali Khamenei called for the bombing of Gaza to stop "immediately".
Khamenei told a group of students in Tehran: "No one can confront Muslims and the resistance forces if the Zionist regime's crimes against Palestinians continue … the bombardment of Gaza must stop immediately.
"The world is witnessing the Zionist regime's genocide of Palestinians in Gaza," he said to chants of "Death to Israel".
FOLLOW BELOW FOR LIVE UPDATES…
KEY EVENTS
Hundreds reported killed in strike on hospital

18:23
No 10 calls on Israel to resume water supplies to Gaza

12:20
Hamas leader says hostages to be released 'after war ends'

11:32
Biden to arrive in Israel on Wedensday

11:31
Risk of Israel-Iran war is real, says expert warning of 'dangerous escalation spiral'

11:25
British girl, 13, murdered by Hamas terrorists after going missing in attack on Israel

09:18
Two British teenage sisters still missing after Hamas attack

19:35
BBC stands by decision not to describe Hamas as a terrorist organisation

17:59
More than a million people have fled their homes in the Gaza Strip ahead of expected Israel invasion

17:16
Rishi Sunak confirms six British citizens were killed and 10 are missing after Hamas attacks

15:44
Gaza 'running out of life' as world warned of 'catastrophe'

09:42
Israel denies reports of a ceasefire

09:02
Jordan cancels summit meeting with President Biden
Jordan's foreign minister told state-run television that Jordan has canceled the four-way summit scheduled for Wednesday with U.S. President Joe Biden and other leaders.
Ayman Safadi told al-Mamlaka TV that the war between Israel and Hammas was "pushing the region to the brink."
He said the summit would be postponed.
After visiting Israel Wednesday, Biden had planned to travel to Amman for the summit.
The White House said Biden had hoped to use the summit to discuss the bloody October 7 Hamas militant attack on Israel with America's Arab allies and the Palestinian Authority, which exercises limited autonomy in parts of the occupied West Bank
Palestinians clash with security forces calling for PA President Mahmoud Abbas to quit
Protesters in the West Bank have been throwing missiles and fighting with security forces after a huge rally was held calling for President Mahmoud Abbas to quit.
Mr Abbas' office said tonight the Fatah-led Palestinian Authority leader had cancelled his scheduled meeting on Wednesday with President Biden.
China 'fails to make itself heard' in Israel-Hamas conflict
Chinese officials have, in recent years, attempted to firm relations with both Israel and Palestine and take on a larger role in the region, putting the nation up against the US on another front.
Speaking to the Times of Israel, Shi Yinhong, professor of international relations at the Renmin University of China, said the country has failed to make itself heard since the conflict exploded earlier this month.
He said: "For a while at least, Beijing's Middle East policy is paralysed by the war.
"The US, which strongly supports Israel, is directly or indirectly involved. Who is there to listen to China?"
Palestinian group denies firing rocket behind hospital blast
The Palestinian Islamic Jihad (PIJ) has denied Israeli suggestions it was responsible for a blast at the Al Ahli hospital in Gaza City, the BBC reports.
Number 10 say Rishi Sunak could travel to Israel in days
Rishi Sunak could visit Israel as soon as Thursday, according to reports, amid growing concerns about the crisis in the Middle East.
The Prime Minister could reportedly travel to the country as part of a wider trip to the region, including stops in Jordan and Egypt, Sky News reported.
It would follow visits from US President Joe Biden and German Chancellor Olaf Scholz.
Downing Street has said it will not comment on the Prime Minister's travel plans, but reports suggested he would travel to Israel in the coming days.
IDF claims deadly hospital blast caused by rockets fired by Palestinian militants
The Israeli military says it had no involvement in an explosion that killed hundreds of people at a Gaza City hospital and that the blast was caused by a misfired Palestinian rocket.
The Hamas-run Health Ministry in Gaza says an Israeli airstrike caused the blast, and that it killed some 500 people, many of whom had sought shelter from an ongoing Israeli offensive.
But in a post on X from the Israeli Defence Force (IDF) said: "An analysis of IDF operational systems indicates that a barrage of rockets was fired by terrorists in Gaza, passing in close proximity to the Al Ahli hospital in Gaza at the time it was hit.
"Intelligence from multiple sources we have in our hands indicates that Islamic Jihad is responsible for the failed rocket launch which hit the hospital in Gaza."
Former 'Miss Israel' calls out BLM for response to Hamas terror attacks
Black Lives Matter has been criticised by former Miss Israel Yityish Aynaw after the organization's response to the Hamas terror attack.
Speaking on Instagram, Ms Aynaw said: "I am so shocked by the response of Black Lives Matter regarding the terror attacks here in Israel.
"I remember you screaming in the streets, 'I can't breathe'. I want to inform you right now… [it's Israelis] who cannot breathe.
First pictures emerge from hospital blast
Images purporting to be from a devastating strike on a hospital that Hamas claims killed at least 500 people have emerged.
The unverified images shown by the BBC and other broadcasters show an ambulance near a building on flames and men running to the structure.
Hundreds reported killed in strike on hospital
Hundreds of people have been killed in a strike on a hospital in Gaza, the Palestinian Health Ministry has said.
At least 500 people are said to have been killed in the attack on the al-Ahli Arab Baptist Hospital in Gaza City, the ministry claims.
Images purporting to show the aftermath of the explosion at the hosptial are circulating on social media, but independent verification has yet to be put forward.
Palestinian ambassador says Gaza is
Husam Zomlot, the Palestinian ambassador to the UK, has told the BBC the situation in Gaza is "almost like living in an unimaginable horror movie".
He added: "It's really unimaginable what has happened."
Mr Zomlot told the channel the people in Gaza have to make "horrific" choices over whether they should stay in their homes, how they ration water and food, and if they should continue vital medical care like cancer treatment or dialysis.
Clashes between Israeli forces and Hezbollah leave five dead
Clashes erupted Tuesday along the Lebanon-Israel border that left five Hezbollah fighters dead, marking the largest number of casualties for the militant group in a single day as tensions with Israel escalate.
Israeli forces and armed groups in Lebanon have engaged in a series of low-level skirmishes since the outbreak of the latest war in Gaza between the Israeli military and the Hamas militant group. Hezbollah has announced the death of 10 militants since skirmishes began.
Israel says hostages range from the elderly to babies
Israel has said the 199 hostages taken by Hamas terrorists and held in Gaza range from babies to the elderly.
Some of their families received frantic phone calls or texts during the attack. Others heard nothing and later saw video evidence their loved ones were taken.
For now, they wait, desperate to find out whether the hostages are even alive.
One elderly woman, Yaffa Adar, 85, was one of the first to be pictured being kidnapped by Hamas terrorists on October 7. Her daughter Adva Adar said her mother is without her medication for blood pressure and chronic pain.
SNP leader Humza Yousaf's wife calls for urgent ceasefire in Gaza after relative wounded
Humza Yousaf's wife has asked for an urgent ceasefire in the Gaza strip after her relatives were wounded by shrapnel in a drone attack.
Nadia El-Nakla, an SNP councillor for Dundee City Council, spoke on LBC news about the dangers faced by her family who have become caught in the midst of the ongoing conflict.
Speaking to presenter Shelagh Fogarty, she revealed her mother, Elizabeth, had to pull shrapnel from her young cousin's skin as hospitals are dangerous and low on medical supplies.
The First Minister revealed last weekend that his wife's family were trapped in Gaza after the Hamas attack on southern Israel.
The family had travelled to the country to visit Ms El-Nakla's grandmother and her brother – who is a doctor – and his family.
On Tuesday, Ms El-Nakla told LBC news: "Two minutes before I came on my mother called me.
"My uncle, aunt and their three children were just sitting outside and they just got hit by a drone.
"Thankfully, the drone hit off a metal fire extinguisher and now my two-year-old cousin is covered in shrapnel.
"This is affecting everyone in Gaza. My mum's crying and she's a retired nurse so is removing the shrapnel."
Charity Save the Children calls for immediate ceasefire as '1,000 children' die in strikes on Gaza
Charity Save the Children say '1,000 children' have reportedly been killed in 11 days of strikes on Gaza, one child every 15 minutes.
In all the charity said children make up a third of total fatalities in Gaza, and it called for an immediate ceasfire.
During the October 7 terror attack on Israel children were also among the dead after being murdered by Hamas.
And Israeli children and teenagers are thought to be among the 199 taken and held hostage in Gaza by Hamas.
Save the Children's Country Director Jason Lee, said: "Water is running out and time is running out for the children of Gaza.
"With the UN Security Council expected to reconvene today, a ceasefire must be agreed to save children's lives.
"Without an end to fighting, without a ceasefire, thousands of children's lives hang in the balance."
Israeli forces carry out intense bombardment of Gaza
Palestinians have described intense bombardments near two towns in southern Gaza, where Israel had ordered civilians to seek refuge.
Hamas' military wing said a separate attack on a refugee camp in central Gaza killed a top Hamas commander.
Thousands of people trying to escape Gaza are gathered in Rafah, which has the territory's only border crossing to Egypt.
Mediators are pressing for an agreement to let aid in and refugees with foreign passports out. The U hoped to break a deadlock with President Joe Biden set to head to the region on Wednesday.
Aid workers warned that life in Gaza was near complete collapse because of the Israeli siege that followed a Hamas attack on Israel.
The war that began October 7 has become the deadliest of five Gaza wars for both sides.
The Gaza Health Ministry said 2,778 Palestinians have been killed and 9,700 wounded. Another 1,200 people across Gaza are believed to be buried under the rubble, alive or dead.
More than 1,400 Israelis have been killed, and at least 199 others, including children, were captured by Hamas and taken into Gaza, according to Israel.
Scholz arrives in Israel
German Chancellor Olaf Scholz arrived in Israel to meet with Israeli Prime Minister Netanyahu and President Herzog.
The German leader will travel to Egypt later in the evening.
Three Israeli killed in Medulla
Three Israelis, including two army reservists and a civilian, were injured in Metulla, northern Israel, due to the launch of anti-tank missiles from Lebanon earlier today. This information was confirmed by the Israeli military spokesperson.
Four killed in southern Lebanon after Israel bombings
Four people died in southern Lebanon along the Blue Line demarcation with Israel. The tragic incident was reported by the Lebanese Red Cross, which promptly dispatched medical teams to the scene near the border town of Alma Shaab in the western sector of the Blue Line between the two countries. The area was targeted this morning by Israeli artillery bombardments.
Two more US Navy ships heading to Israeli coast
At least two more ships from the US Navy are heading from the Gulf towards the Israeli coast. The ships are carrying thousands of Marines and are intended to assist in any potential US response to the ground fighting between Hamas and Israel. Their primary purpose is to evacuate American citizens if necessary. The amphibious assault ship USS Bataan and the amphibious landing ship USS Carter Hall are among these vessels. They are equipped with watercraft to ferry people from the shore to the ships. The information comes from two Pentagon officials, as cited by CNN.
Gaza ministry of health pleads for fuel
The Ministry of Health in Gaza said: "We call on all gas station owners and everyone who has fuel to communicate to save the lives of the wounded."
Map shows the European hotspots where most terror attacks happen
Europol's Terrorism Situation and Trend Report is the go-to source here, to which the Home Office's own counter-terrorism statistics can be added.
Over the decade leading up to the end of last year, a total of 137 terrorist attacks linked to radical Islamic ideology unfolded in Europe.
The incident tally peaked in 2017 – the year the UK was stricken by the Manchester Arena bombing and London Bridge attack in quick succession.
The number of deaths, meanwhile, peaked in 2015 – the focus this time on France, and Paris in particular, with combined fatalities from the Charlie Hebdo killings in January and coordinated November attacks coming to 157.
Israeli offensive might not be expected ground attack
The Israeli military is gearing up for the next phase of its campaign against the Gaza Strip, but the plans might not align with the widespread expectations of an imminent ground offensive, said army spokesperson Richard Hecht. "We are preparing for the upcoming stages of the war. We haven't disclosed what they will be. Everyone is talking about a ground offensive. It could be something different," said the IDF international spokesperson during a routine briefing with journalists.
No 10 calls on Israel to resume water supplies to Gaza
Downing Street has urged Israel to allow water into Gaza, while refusing to say whether it believes the tactic to shut off the supply was in line with international law.
The Prime Minister's official spokesman said: "We continue to urge Israel as a democracy we work closely with to act within international law in their actions, I think they are taking steps to do that.
"We are in discussions and are keen to see water restored to the area.
"We want to do everything possible to relieve the unfolding humanitarian issues in Gaza. Water is an important part of that."
Gaza hospital severely damaged
Gaza Health Ministry says the al-Karama Hospital in Gaza Strip is now out of service due to severe damage caused by Israeli bombing.
Hamas leader says hostages to be released 'after war ends'
Hamas leader Izzat al-Rishq to Al-Arabi said: "We will release the prisoners at the appropriate time after the war ends."
Biden to arrive in Israel on Wedensday
US President Joe Biden is expected to land in Israel tomorrow at 10:00 am and leave at 3:00 pm, Israeli media has reported.
Risk of Israel-Iran war is real, says expert warning of 'dangerous escalation spiral'
The risk of a "really dangerous" war between Israel and Iran is greater now than it was ten days ago, an expert in Middle Eastern affairs has warned.
Dr Tobias Borck also outlined what he called the "escalation spiral" leading to full-blown regional conflict, warning Iran's multiple proxies, including Hezbollah in Syria, made the outcome difficult to predict.
Dr Borck, a Senior Research Fellow in Middle East Security at the Royal United Services Institute (RUSI), told Express.co.uk: "I think we should worry about it.
"I don't think it is an immediate risk. There are quite a lot of obstacles underway before we get there but this is an escalation spiral.
"There's a balance between being alarmist on the one hand, and making sure we think about that risk.
"It is a possibility and it's certainly a greater possibility today than it was, let's say, 10 days ago."
Macron to visit Israel in coming days
French President Emmanuel Macron said he intends to visit Israel in the coming days.
Macron condemned Hamas after the terrorist group published the video of kidnapped Mia Shem, a French-Israeli citizen.
At least 19 French citizens were murdered in the massacre carried out by Hamas in the Gaza Strip, and about 13 are still missing.
Gaza running out of food
The World Food Programme says there are only four-five days of food stocks left in Gaza Strip.
Israeli Police: 70% of Civilians Killed in Hamas Attack Identified
The Israeli police have announced that they have identified the bodies of 947 civilians killed in the Hamas attack. According to the police, as reported by the media, these victims represent approximately 70 percent of the total estimated casualties, which exceed 1,300.
Architect of Hamas terror attack 'killed in massive assault on his Gaza home
The mastermind behind the Hamas atrocities on October 7 that left at least 1,400 Israelis dead is said to have been killed in his Gaza home on Tuesday.
Fouad Abu Btikhan, responsible for the crossings in the Gaza Strip (with the rank equivalent to a major), was killed in the attack on his house a short time ago in Ein Jalot Towers in Nzirat (the centre of the Gaza Strip), it has been reported.
115 stikes on health facilities in Gaza, says WHO
Gaza's Ministry of Interior reported that at least 49 Palestinians lost their lives due to Israeli airstrikes in Khan Younis and Rafah overnight.
According to the World Health Organisation, there have been 115 attacks on health facilities in Gaza since Hamas initiated a surprise attack on Israel on 7 October.
IDF denies humanitarian ceasefire for Gaza
IDF spokesperson says that no humanitarian ceasefire will be implemented in Gaza Strip at this stage.
Israel using white phosphorus in Lebanon
Israeli forces are reportedly using internationally banned phosphorus munitions in southern Lebanon.
British girl, 13, murdered by Hamas terrorists after going missing in attack on Israel
Yahel went missing after Hamas terrorists launched a horrifying attack on the Be'eri kibbutz and killed her British-born mother Lianne.
It was initially thought the girl, aged 13, may have been taken hostage by Hamas.
However, her family has now confirmed to the BBC that Yahel was killed in Be'eri, one of the villages hit the hardest by Hamas assault earlier this month.
On October 7, some 70 militants stormed this kibbutz, located just a few kilometres away from the Gaza Strip.
BBC forced to delete programme over reporting of Hamas Kfar Aza Kibbutz massacre
An episode of the recent BBC Arabic programme, "Trending", has been taken down by the broadcaster after it stirred debate over the accuracy of its coverage of the Hamas attack on Kfar Aza kibbutz leading.
The attack on October 7 led to tragic deaths, including families and children, after 70 terrorists infiltrating the peaceful farming community of 750 residents.
The programme suggested that there were 'different versions of the story', and Middle East editor Jeremy Bowen was 'simply repeating what he had been told by Israeli forces'.
Initially, the BBC's headline read, "Hamas rejects accusations that its gunmen carried out atrocities in the Israeli Kfar Aza village".
Israel strikes Lebanon target
The Israeli Army targeted a Lebanese army border post between the Khiam Plain and Al-Wazzani.
IDF issues warning to Lebanon
An IDF spokesperson said "Lebanon should ask itself if it is willing to risk itself for ISIS terrorists," adding Israel is focused on Gaza and is prepared with forces in the north and south of the country.
Good morning
Good morning from London. I'm Alessandra Scotto di Santolo, I'll be bringing you all the latest developments on the war in Ukraine. Please feel free to get in touch with me as I work if you have a story or tips to share! Your thoughts are always welcome.
Email: [email protected]
X: @AleScotto
Hospitals in Gaza face loss of power and supplies as aid waits at the border
Aid convoys are waiting at the borders of Gaza to deliver much-needed humanitarian relief to thousands trapped in the midst of the Israel Hamas war.
Truckloads of aid idled at Egypt's border with Gaza, barred from entry, as residents and humanitarian groups pleaded Monday for water, food and fuel for dying generators, saying the tiny Palestinian territory sealed off by Israel after last week's rampage by Hamas was near total collapse.
Hospitals were on the verge of losing electricity, threatening the lives of thousands of patients, and hundreds of thousands of Palestinians displaced from their homes searched for bread.
Israel maintained punishing airstrikes across Gaza as a ground invasion loomed, while Hamas militants kept up a barrage of rocket attacks — and tensions mounted near the Israel-Lebanon border.
UN and aid agencies should help free hostages, says former Tory leader Michael Howard
The United Nations and aid agencies should be urged to use their links with Hamas to secure the release of hostages held in the Gaza Strip, Tory former leader Michael Howard has said.
The Conservative peer pointed out the organisations had been working in the territory for many years and must have "extensive contacts" with the militant group.
More than 1,400 people were murdered, over 3,500 wounded and at least 199 taken captive in Hamas's attack on Israel.
In the resulting conflict, more than 2,750 Palestinians are reported to have been killed and 9,700 wounded in the besieged Gaza Strip.
Responding to a statement in the Lords on the escalating Middle East crisis, Lord Howard of Lympne, who had spoken with families of those kidnapped by the insurgents, said: "NGOs (non-governmental organisations) and the United Nations have understandably been vociferous in their concern for the civilian population in Gaza, but those organisations have been working in Gaza for many years.
"So they must have extensive contacts with Hamas and the leadership of Hamas.
"Will the Government urge those organisations to use their contacts with Hamas to persuade them to release now the hostages – the grandmother, the Holocaust survivor, the babes in arms, all 199 of them – in return for which Israel has said it will resume the supply of food, fuel and water to the people of Gaza?"
Gunman in Belgium kills two and claims to be ISIS member
Belgian police are hunting a guman who went on a rampage tonight in the capital Brussels, killing two Swedish football fans.
According to Belgian newspaper Nieuwsblad the country has raised the terror threat leveal after the shooter killed two and also shot a third person tonight.
The publication said the man shared a video on Facebook in which he said in Arabic that he had killed "three infidels" before claiming to be a member of Islamic State.
Global fears of a heightened terror activity in the wake of the war in Israel are rising with extra police patrols on the streets in London and the rest of the UK.
Sister of British man killed by Hamas serving as soldier in Israel says he was a 'cheeky chappie'
The sister of a British man who was serving in the Israeli army when he was killed by Hamas terrorists has said her brother was a "typical 20-year-old cheeky chappie" who died protecting Israel.
Gaby Young said her younger brother Nathanel Young, 20, loved his four nieces, was "fun-loving" and had a passion for DJing.
The 38-year-old from Tel Aviv said she was in contact with her brother by phone on the morning of October 7, when Hamas militants attacked, but he then stopped reading or responding to her Whatsapp messages.
Born in Southgate, north London, Mr Young had a "strong Jewish identity" and attended JFS, the largest Jewish secondary school in Europe.
He "decided to come to Israel just for a short amount of time" – but ultimately stayed a year before joining the Israeli Defence Forces (IDF), his sister said.
Ms Young said her brother joined the IDF because he wanted to be "able to protect Israel and protect civilians, especially from terrorist threats" and served in the force for one year before his death.
"(He) loved fashion and trainers and he had a trainers collection just like a typical 20-year-old cheeky chappie," Ms Young said.
Protesters gather outside BBC HQ in London calling for broadcaster to call Hamas terrorists
Protesters carrying Israeli flags descended on the BBC in central London today to call on the organisation to describe Hamas as terrorists.
The National Jewish Assembly is protesting at the BBC's refusal to label Hamas terrorists and comes after the militant group's recent attacks on Israel.
Hamas was prescribed as a terrorist organisation by the UK in March 2021.
The BBC said it had given "careful consideration" to all aspects of its coverage of the Israel-Hamas conflict following complaints it has been biased against both Israel and Palestinians.
Ofcom online safety director suspended over 'anti-Israel' Instagram posts
An online safety supervision director for Ofcom has been suspended after anti-Israel comments were posted on her private Instagram account.
Fadzai Madzingira was appointed by media watchdog Ofcom in June 2023 and has now been suspended.
Screengrabs published by the Guido Fawkes website appeared to show posts from Ms Madzingira's account describing Israel as an "apartheid state" and liking a post criticising Israel and the UK for a "vile colonial alliance".
Two British teenage sisters still missing after Hamas attack
Two British teenage sisters who vanished after the Hamas terror attack on Israel are still missing, their family say.
Relatives of Noiya, 16, and 13-year-old Yahel say the pair disappeared from Kibbutz Be'eri during the horror of the Hamas attacks last weekend.
BBC stands by decision not to describe Hamas as a terrorist organisation
The BBC said it has given "careful consideration" to all aspects of its coverage of the Israel-Hamas conflict following complaints it has been biased against both Israel and Palestinians.
In a statement responding to the complaints, the BBC said: "Careful consideration has been given to all aspects of our coverage to ensure that we report on developments accurately and with due impartiality in line with the BBC editorial guidelines, which are publicly available."
The statement, published on the BBC website, added: "We understand that this is an extremely worrying time for people not only in the region, but also in the UK and around the world, and we have reflected this in our coverage.
"BBC News has provided our global audiences with coverage and first-hand testimony of the atrocities committed by Hamas and the suffering in Gaza.
"We have made clear the devastating human cost to civilians living in Israel and Gaza, and the unprecedented nature of what has happened.
"The huge loss of civilian life on both sides makes this a shocking and difficult story to cover."
Speaking about its decision not to describe Hamas as a terrorist organisation, it added: "The BBC, along with many other UK and global news organisations, does use the word 'terrorist', but attributes it.
"We have made clear to our audiences that Hamas is proscribed as a terrorist organisation by the UK and other governments."
Speaking in the House of Commons, Conservative MP Chris Clarkson (Heywood and Middleton) said of the BBC: "When faced with child murder, rape and torture (the BBC) decided that Hamas should be called militants rather than terrorists.
"The political leaders of this country and our royal family can decide that they're terrorists – why can't our national broadcaster?"
Prime Minister Rishi Sunak replied: "I agree with (Mr Clarkson). I absolutely endorse those describing these attacks calling them what they are – attacks of terror by a terrorist organisation.
"Now, he will know the BBC is editorially and operationally independent of Government but the Culture Secretary has raised this issue directly with the director-general and we wait to see."
Head of Israeli security takes 'personal responsibility' for lack of warning of Hamas attacks
The head of Israel's Shin Bet security agency has said he takes 'personal responsibilty' for the failure of intelligence that let Hamas murder hundreds of civilians in a surprise attack on the country on October 7.
According to the Times of Israel Ronen Bar, the head of Shin Bet, said: "Despite a series of actions we carried out, unfortunately on Saturday we were unable to generate a sufficient warning that would allow the attack to be thwarted.
"As the one who heads the organisation, the responsibility for this is mine. There will be time for investigations. Now we are fighting."
Hospitals in Gaza expected to run out of fuel in 24 hours
Hospitals in Gaza are expected to run out of generator fuel in the next 24 hours, the UN have said.
Four hospitals in northern Gaza are no longer functioning and 21 have received Israeli orders to evacuate. Doctors have refused, saying it would mean death for critically ill patients and newborns on ventilators.
The medical aid group Doctors Without Borders said many of its personnel decided to stay in the north to treat wounded. They had run out of painkillers, and staff reported "wounded screaming in pain," it said.
Israel has said the siege won't be lifted until Hamas releases all the captives. The country's water ministry said water had been restored at one "specific point" in Gaza, outside the southern town of Khan Younis, but aid workers in Gaza said they had not yet seen evidence the water was back.
The World Health Organisation said assistance for 300,000 patients was currently awaiting entry in Gaza at the border in Rafah. On the Gaza side of the crossing, crowds of Palestinians with dual citizenship waited anxiously, sitting on suitcases or crouched on the floor, some comforting crying infants.
More than a million people have fled their homes in the Gaza Strip ahead of expected Israel invasion
More than a million people have fled their homes in the Gaza Strip ahead of an expected Israeli invasion that seeks to eliminate Hamas' leadership after its deadly incursion.
Aid groups warn an Israeli ground offensive could hasten a humanitarian crisis.
Israeli forces, supported by US warships, positioned themselves along Gaza's border and drilled for what Israel said would be a broad campaign to dismantle the militant group. A week of blistering airstrikes have demolished neighborhoods but failed to stop militant rocket fire into Israel.
The war that began October 7 has become the deadliest of five Gaza wars for both sides, with more than 4,000 dead.
The Gaza Health Ministry said 2,750 Palestinians have been killed and 9,700 wounded. More than 1,400 Israelis have been killed, and at least 199 others, including children, were captured by Hamas and taken into Gaza, according to Israel.
British actor calls for end to 'indiscriminate bombing of Gaza's civilians'
Actor Riz Ahmed has called for "an end to the indiscriminate bombing of Gaza's civilians" amid the ongoing conflict between Israel and Hamas.
The British actor, 40, who was nominated for an Oscar for the film The Sound Of Metal, said "staying silent is not an option" as he blasted the "morally indefensible war crimes".
Sharing a lengthy statement on social media, he wrote: "We are told there are two sides to what is happening in Israel and Palestine. But in my heart, I know there is only one – the side of our humanity.
"What happened in Israel last week was horrific and wrong. The pain and fear so many are feeling is deep and real.
"What's happening in Gaza now, and has been happening in Palestine under the Occupation for decades, is horrific and wrong. The depth and reality of this suffering cannot be ignored.
"If we look only in one direction, we will go even deeper into darkness.
"But that is exactly what is happening right now. We are being asked to look away while the civilians of Gaza, half of them children, are running out of time.
"If we are on the side of humanity we must urgently speak up to try and avert the loss of innocent life.
"This means calling for an end to the indiscriminate bombing of Gaza's civilians and vital infrastructure, the denial of food, water and electricity, the forced displacement of people from their homes.
"These are morally indefensible war crimes."
Rishi Sunak confirms six British citizens were killed and 10 are missing after Hamas attacks
Rishi Sunak has said six British citizens were killed and a further 10 are missing after the Hamas attacks in Israel.
The Prime Minister told the Commons: "The attacks in Israel last weekend shocked the world. Over 1,400 people murdered one by one, over 3,500 wounded, almost 200 taken hostage."
He went on: "We should call it by its name: it was a pogrom.
"The families of some of the missing are in the public gallery today. We call for the immediate release of all hostages and I say to them: we stand with you. We stand with Israel.
"The murdered and the missing come from over 30 countries, including the United Kingdom.
"The terrible nature of these attacks means it is proving difficult to identify many of the deceased but with a heavy heart I can inform the House that at least six British citizens were killed.
"A further 10 are missing, some of whom are feared to be among the dead."
The PM earlier visited a school in North London to sign messages and prayers for Israel.
Israeli security forces clash with Palestinians in the West Bank
Palestinian protesters hurled rocks at Israeli security forces at the northern entrance of Ramallah city, near the Beit El Israeli settlement, in the West Bank.
Israeli forces are on high alert ready for attacks being launched from the territory, as well as over the northern border from Lebanon.
MPs hold a minute's silence for those killed in the Israel Hamas conflict
MPs held a minute's silence for innocent victims killed in the war in Israel on both sides of the conflict.
Prime Minister Rishi Sunak was joined by the Labour leader Sir Keir Starmer in observing the vigil which was honoured by all parties in the House this afternoon.
Iran's chilling war threat as top diplomat warns fighting could spill beyond Gaza border
Iranian Foreign Minister Hossein Amir-Abdollahian bluntly said new fronts may open in the war between Hamas and Israel in what appeared to be an ultimatum to Benjamin Netanyahu's government.
The Iranian official told Al Jazeera: "If the measures aimed at immediately stopping the Israeli attacks that are killing children in the Gaza Strip end in a deadlock, it is highly probable that many other fronts will be opened.
"This option is not ruled out and this is becoming increasingly more probable."
1,000 people missing in Gaza
The Palestinian civil defence believes more than 1,000 people are still missing under houses and buildings destroyed in the retaliatory air strikes Israel is carrying out.
At least 2,750 people in the Gaza Strip have been killed and 9,700 wounded since October 7, the day in which Hamas launched its horrific assault on Israel.
Hamas claimed last week a number of hostages caught by the terror group on October 7 had also been killed in the air strikes.
Small amount of fuel delivered to Gaza
After Israel agreed to reopen the delivery of water to some areas in souther Gaza, the strip managed to import from Egypt some 150,000 litres of fuel to run water and sewage pumping statons.
A long line of lorries carrying aid awaits at the Rafah crossing point, but the border hasn't yet been open.
'Hero' British man, 32, killed in Israel trying to save wounded from brutal Hamas fighting
Tributes have been pouring in for Major Benjamin Trakeniski, a 32-year-old member of the Israel Defense Forces (IDF) killed by Hamas during its harrowing assault on the Middle Eastern nation.
Major Trakeniski, who joined IDF aged 18, was gunned down by members of the terror group while he was helping evacuate wounded civilians at the Be'eri kibbutz, stormed on the morning of October 7 by around 70 Hamas militants.
Based in Tel Aviv, the IDF soldier was reportedly off-duty on the day of the attack, but selflessly decided to head to Be'eri to offer support – and managed to save a number of residents before being killed.
His body was found on Tuesday, two days before some 2,000 people gathered to pay their respect at the funeral of the IDF member.
Putin elbows his way into Gaza conflict as fears grow Hamas terrorists trained by Wagner
Former Ukrainian President Petro Poroshenko accused Russia of being involved in the Hamas terrorist attack on Israel.
Mr Poroshenko said he was "absolutely convinced" of Russian hands in preparing for the attack and alleged that Russian instructors affiliated with the Wagner Group were transferred from Syria to Gaza to train terrorists.
Speaking to Euractiv, he said: "I am absolutely convinced that there is a Russian interest, Russian hands, in preparing for the Hamas terrorist attack against Israel.
"I am absolutely sure that Wagner's Russian instructors in Syria were transferred to Hamas in Gaza and took part in training terrorists to prepare the absolutely barbaric attack against Israel from Gaza."
Russia has denied any involvement in the Hamas attack.
Hamas support can be punished by jail in the UK – Sunak
UK Prime Minister Rishi Sunak visited a Jewish school in north London this morning.
During the engagement, he stressed support for Hamas is "illegal" and punishable by jail, given it is a proscribed terrorist organisation.
He added: "I know it's an anxious time for many families who will have loved ones who are impacted or missing.
"We're providing all the consular support through the Foreign Office that we can and also providing direct support to the Israelis."
Huge Royal Navy warships head to eastern Mediterranean as Israel-Hamas war escalates
Two Royal Navy vessels sailed from Gibraltar to the eastern Mediterranean as the conflict between Hamas and Israel continues.
Pictures showed the Royal Fleet Auxiliary vessels RFA Lyme Bay and RFA Argus sailing from Gibraltar yesterday on a mission to support regional stability.
RFA Lyme Bay, which weighs 16,160 tonnes and is 177 metres long – about double the length of a football pitch – is skippered by Captain Angus Bissell.
The Royal Navy says it is "capable of delivering a significant fighting force anywhere in the world".
RFA Argus, which weighs 28,081 tones and measures 175 metres, is skippered by Captain Richard Davies.
Iran accuses US of being 'militarily involved' in the Hamas-Israel war
Tehran has claimed the US is "already militarily involved" in the war between Hamas and Israel.
Asked if Iran would engage if the US weighed in, foreign ministry spokesperson Nasser Kanaani said: "Iran considers that the United States is already militarily involved in the conflict between Israel and Palestinians."
Following the terror attack by Hamas, Washington moved several ships, including the aircraft carrier USS Gerald R Ford, to the eastern Mediterranean, and pledged to support Israel.
However, it hasn't yet actively taken part in the war.
Civilians likely to be 'badly affected' by operation in Gaza
Armed forces minister James Heappey said it is "almost inevitable" that the operation in Gaza will see an "innocent civilian population that is very badly affected".
He told ITV's Good Morning Britain: "I think you have to be clear that international law allows Israel to prosecute a mission that is legal, proportionate and necessary, and that, I'm afraid, does not necessarily mean that Israel has to be able to guarantee that there will be no civilian loss of life.
"It is almost inevitable, given the complexity of the mission, that there will be (an) innocent civilian population that is very badly affected. I just don't think there's any point pretending otherwise."
Families of kidnapped Israelis demand Hamas free innocent hostages
Hundreds of people have gathered at a vigil in central London to commemorate Israeli victims of the Hamas incursion into the country on Sunday (October 15).
Many were draped in Israeli flags and posters saying "bring them home" with names and faces of hostages captured by Hamas were being handed out to attendees.
The grassroots-organised vigil featured speeches as well as prayer, singing in Hebrew and a testimonial from a woman named only as Lital, who was at the Nova music festival where hundreds were killed, read out by speaker Jenny Kananov Shayo.
Hamas holding at least 199 people hostage
The Israeli military believes Hamas is holding at least 199 people hostage following its massacre on October 7.
Over the past few days, the abductions of some of these hostages have emerged thanks to video circulating online.
Some 10 British people are believed to be among the hostages.
Gaza 'running out of life' as world warned of 'catastrophe'
The world has been warned an "unprecedented humanitarian catastrophe" is unfolding as the war between Israel and Hamas rages on.
In the wake of the harrowing terror attack launched on October 7 by Hamas on Israel, Tel Aviv has been carrying out retaliatory air strikes and barring the entrance of food, water and electricity into the Gaza Strip – a territory that was already heavily reliant on international food assistance.
On October 15, Philippe Lazzarini, Commissioner-General at the United Nations Relief and Works Agency for Palestine Refugees in the Near East (UNRWA), put the spotlight on the toll this blockade is having on the two million civilians living in the strip, as he said during a press conference: "As I speak with you, Gaza is running out of water and electricity.
"In fact, Gaza is being strangled and it seems that the world right now has lost its humanity.
"If we look at the issue of water – we all know water is life – Gaza is running out of water, and Gaza is running out of life. "Soon, I believe, with this there will be no food or medicine either."
The organisation's facilities, Mr Lazzarini said, don't have the capacity to support all the people seeking shelter, with at least 400,000 displaced persons already being housed in schools and UNRWA buildings.
Painting a gut-wrenching image of the dramatic situation in Gaza, pummeled with retaliatory rockets for the past days, the UN official said: "Gaza is now even running out of body bags."
On Sunday afternoon, Israel's Energy Minister announced Prime Minister Benjamin Netanyahu and US President Joe Biden agreed on renewing water supplies to parts of southern Gaza, where thousands of people escaped following an Israeli military evacuation order on Thursday.
Humza Yousaf's wife describes 'unimaginable horror' faced by her family in Gaza
In a heart-wrenching speech at the SNP conference in Aberdeen, Nadia El-Nakla, wife of Scottish First Minister Humza Yousaf, accused Israel of terrorising Gaza, painting a grim picture of the situation faced by her relatives and countless others in the region.
Speaking about the impact on the population in Gaza of the Israeli retaliatory air strikes, Ms El-Nakla said the situation had become so dire that ice cream trucks were being repurposed to store the bodies of the dead.
Her brother, a doctor living in Gaza with his four children, could no longer tend to the injured due to the depletion of medical supplies.
Ms El-Nakla's parents, Elizabeth and Maged El-Nakla, found themselves trapped in Gaza after a Hamas attack, unable to return to their Dundee home.
Israel denies reports of a ceasefire
Israel Defense Forces spokesman Lieutenant Colonel Richard Hecht denied reports of an agreed ceasefire in southern Gaza.
He said: "There is no agreed ceasefire that I'm aware of. I'm seeing all these reports too. There's nothing I confirm."
Israel announces evacuation of towns near Lebanese border
Israel is evacuating residents living in 28 towns near the country's northern border with Lebanon.
People residing within two kilometres of the border have been asked to leave as clashes between Israel soldiers and Hezbollah militants appear to have increased.
On Sunday, Iran-backed Hezbollah attacked Israeli army posts and a border village, Shtula, while Israel retaliated with strikes.
Italy builds pressure on Hamas over hostages
Italy is trying to use its good relations with several Arab nations to persuade them to pressure Hamas to release Israeli hostages.
The government of Italian Prime Minister Giorgia Meloni has opened a dialogue with several Arab countries, including Jordanian King Abdullah II bin Al-Hussein, who is visiting Rome today.
US stands with Israel – official
US Secretary of State Antony Blinken renewed Washington's support for Tel Aviv.
In a short social media message, Mr Blinken also shared the US is working to help civilians in Gaza.
He wrote: "We stand with Israel as it defends itself. The United States is also actively working to ensure the people of Gaza can get out of harm's way and the assistance they need — food, water, medicine — can get in. Hamas does not care if Palestinians suffer."
Pakistan's Prime Minister calls for ceasefire in Gaza
Pakistan's Prime Minister Anwar ul Haq Kakar issued a statement in which he expressed solidarity to Palestinians and called for an immediate ceasefire.
He wrote on X, formerly Twitter: "Pakistan is deeply concerned on the ongoing violence and loss of life in Gaza. We stand in solidarity with the oppressed people of Palestine and call for an immediate ceasefire and lifting of the blockade in Gaza. "Israel's deliberate, indiscriminate and disproportionate targeting of civilians in Gaza is against all norms of civility and in manifest violation of international law.
"The breakout of violence needs to be seen in the context of years of forced and illegal occupation of Palestinian territory and repressive policies against its people.
"The UN and international community must immediately act to open safe and unrestricted humanitarian corridors for transportation of urgently needed relief supplies to the besieged Gaza."
Israel Hamas war death toll
The conflict ignited by Hamas' terror attacks has killed at least 4,000 people.
The massacre carried out on October 7 by Hamas killed at least 1,400 Israelis, Tel Aviv has said.
And the retaliatory air strikes on the Gaza Strip that followed have so far killed more than 2,600 Palestinians.
Good morning
Good morning from London. I'm Alice Scarsi, I'll be bringing you all the latest developments on the war between Hamas and Israel.
More to follow.
We use your sign-up to provide content in ways you've consented to and to improve our understanding of you. This may include adverts from us and 3rd parties based on our understanding. You can unsubscribe at any time. More info
Source: Read Full Article