Harrowing drawing by Israeli child shows how Hamas stormed his home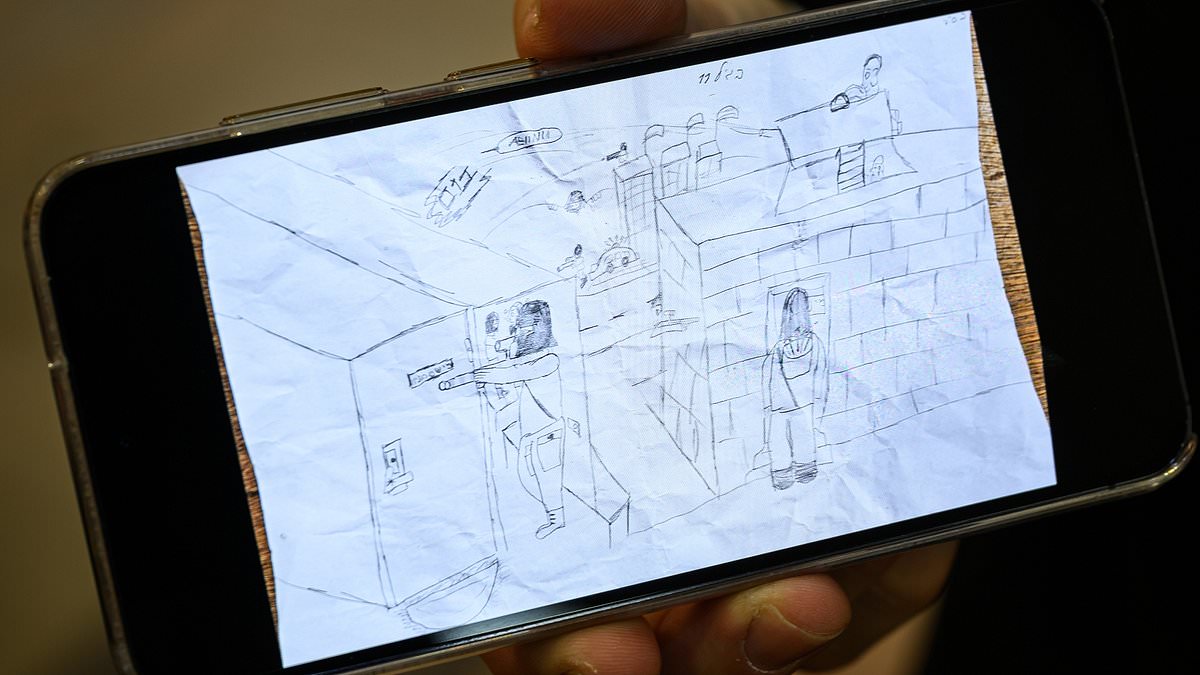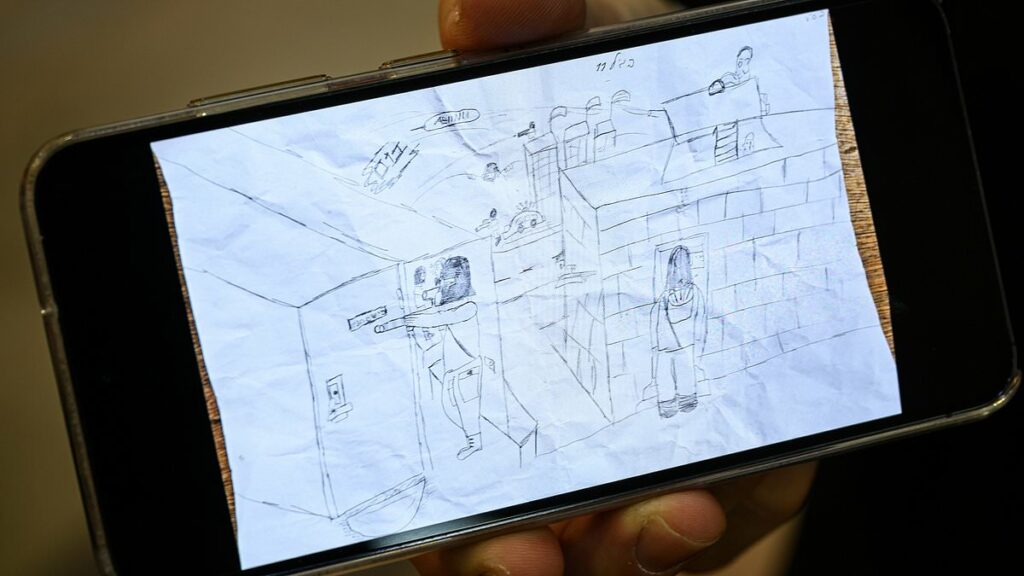 Harrowing drawing by Israeli child shows how gunmen stormed his home – and his father's bid to escape
The heartbreaking drawing depicts a young boy's memory of the deadly attack
His home in Netivot was attacked by Hamas terrorists on October 7
He is now sheltering in the city of Bnei Brak, near Tel Aviv
A young Israeli boy has sketched his recollection of a deadly Hamas attack on his family home in a heartbreaking hand-drawn picture. 
The pencil drawing, made by a young child who is currently sheltering in the city of Bnei Brak, depicts the attack on his family home in Netivot, six miles from the border with Gaza, on October 7. 
The foreground of the picture shows two balaclava-wearing men, one of whom is pointing through a door with a gun, while the other has his face turned to a brick wall. 
In the top-right corner, the boy's father was drawn trying to escape through a hatch in the ceiling of the building, only to find a Hamas attacker waiting for him. 
The background, meanwhile, appears to show tall buildings in the city being bombarded with rockets. 
The drawing depicts the moment Hamas terrorists attacked the boy's family home
A masked Hamas attacker can be seen holding a gun
The boy drew his father trying to escape the Hamas terrorists
The picture is currently on display at Klil Malhchut Hall, a centre that is currently providing food, clothing and support for people in Netivot. 
Leon Neal, who took the picture image, told Yahoo News UK: 'The image was shown to me by one of the organisers at a centre for internally-displaced people. 
'It's a heart-breaking image and the only solace available was when visiting the entertainment centre upstairs where children were laughing and enjoying a puppet show.'  
Israeli children have been traumatised, or worse, throughout the bloodiest conflict between Israel and Hamas in decades. 
Hadas Kalderon, a devastated Israeli woman shared the moment she learned her mother and 12 year-old autistic niece had been murdered by Hamas.
Recalling Wednesday's heartbreak, Hadas told DailyMail.com: 'I saw the soldiers. I told them "Go away. I don't want to hear your message… your information. Go away" … that is when they told me.'
Pictured: Grandma Carmela Dan, 80, was taken captive by Hamas and was killed by the terrorists. Kalderon learned of her mother's death on Wednesday 
Pictured: Noya Dan, 12, was killed by Hamas terrorists. The young girl, who was autistic, was a fan of Harry Potter. Heartbroken Kalderon described her niece as a 'very special smart and clever girl' 
Kalderon was to discover that her 79 year-old mother Carmela Dan and her 12 year-old niece Noya Dan were among victims of the October 7 slaughter that killed 1,400 Israelis.
Initially feared abducted and taken to Gaza, the relatives' bodies were later found close to the border fence and are believed to have been identified through DNA.
Noya had autism and was a huge Harry Potter fan, with news of the vulnerable youngster's disappearance shared widely online, including by series author JK Rowling.
Tragically, Kalderon fears more bad news could be in store. Her 16 year-old daughter Sahar and 11 year-old son Erez, as well as her ex-husband Ofer Kalderon, 50, were also taken by Hamas during a raid on the family's kibbutz in Nir-Oz.
They remain missing and are believed to have been abducted.
Noya, who was autistic, was very close to her grandmother, who helped raise her. She described her niece as a 'a very special smart and clever girl,' and started to cry when she shared the fear her niece had before her abduction.
'I can hear her voice saying, 'Mama I'm afraid,' as she wept.
'I love her so much. I miss her so much. Why is this world so cruel? Why? To kill an innocent girl.'
Source: Read Full Article