Four days in, Israel warns its campaign to crush Hamas will only get worse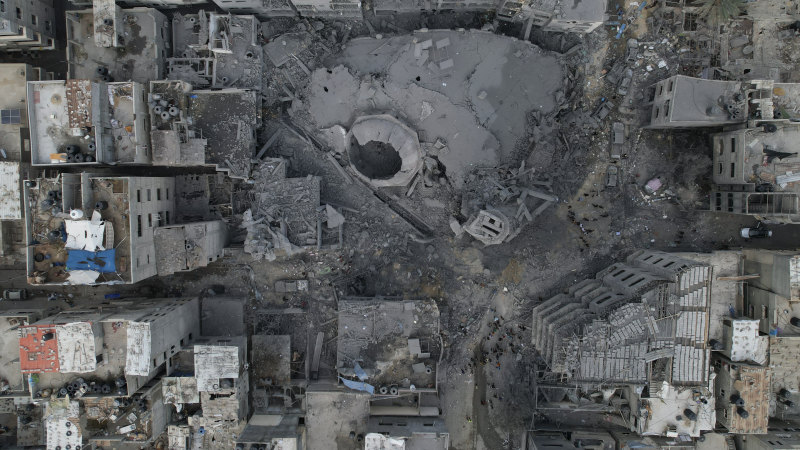 Save articles for later
Add articles to your saved list and come back to them any time.
Israel has continued to pummel Gaza in its campaign to crush Hamas, razing entire neighbourhoods while warning Palestinians that its retaliatory action will only become more severe.
On the fourth day of heavy fighting since Hamas rockets and gunmen ravaged Israel on Saturday, a historic 360,000 Israeli reservists had been called up to serve, firming expectations of an imminent ground invasion.

Israel's message to Palestinians to "get out" of Gaza on Tuesday came less than 24 hours after Hamas threatened to execute Israeli hostages one-by-one if genuine warnings about airstrikes on Gaza were not issued. The fate of an estimated 150 hostages remains unknown.
The rubble of the Sousi Mosque, Gaza, destroyed in an Israeli airstrike.Credit: AP
More than 200 targets were hit by airstrikes in Gaza on Tuesday (AEDT) before Hamas sent rockets raining down on Israel's Iron Dome mobile air defence system in one of the militant group's most sustained barrages in the conflict so far.
Hamas followed through on a promise to fire hundreds of missiles at the northern city of Ashkelon at 5pm (local time) after earlier warning residents of the Israeli port city to leave ahead of heavy fire.
"If the occupation does not stop the policy of displacing civilians, the Qassam Brigades will continue to demolish the city of Ashkelon until it is displaced, then it will move on to displace another city," said Abu Ubaida, a spokesman Hamas' armed wing.
The sustained rocket fire highlighted Hamas' willingness to dig in for a long war, while Israel escalated its response with its own relentless strikes, including firing at the only formal exit point on Gaza's southern border.
The view of a house left in ruins in Kfar Aza after the weekend attack by Hamas militants.Credit: Getty
In televised remarks in English, Israeli Prime Minister Benjamin Netanyahu urged the world to support his country.
"Hamas are savages," he said. "And just as the forces of civilisations united to defeat ISIS, the forces of civilisation must support Israel in defeating Hamas."
Earlier on Tuesday, Israel said its military had regained control over towns near the Gaza Strip that were overrun by Hamas gunmen who showered Israeli civilians with bullets, while kidnapping others.
At least 150 hostages are believed held in Gaza. Fears for their welfare heightened after Hamas vowed to broadcast the executions of hostages if Israel attacked Gaza without prior warning.
Despite the rhetoric, the Israel Defence Forces (IDF) said dozens of fighter jets had targeted high-rise buildings in the Gaza City neighbourhood of Rima and that the military had largely gained control in the south and had restored full control over the Gaza border.
Tensions continued to mount in the border region near Lebanon as reports emerged of a number of rockets being fired towards Israel. Israeli forces responded with artillery fire.
IDF spokesman Lt-Col Richard Hecht told reporters the scope of the entire Israeli operation would only get "bigger than before and more severe."
The military has conducted the largest mobilisation effort in its history, including flying reservists home from overseas, while construction is under way for a new defence base to accommodate tens of thousands of soldiers near the Gaza Strip.
The aftermath of Israeli airstrikes on Gaza City.Credit: Getty Images
"It's not going to be clean," Hecht said, adding that many more deaths should be expected. "We are going to go very, very aggressively against Hamas. We should all change the paradigm."
Israel also commenced a total blockade of Gaza by sealing off the densely populated enclave from food, fuel and other essential supplies, imperilling more than 2.3 million Palestinians who live there. The move triggered calls from the United Nations for access to administer an urgent humanitarian response.
It is estimated more than 180,000 Gazans have been made homeless in the fighting so far, with many forced to huddle on streets or in schools. Persistent bombardment has shut roads to emergency crews.
Independent Palestinian journalist Akram Al-Satarri, who has covered the Israeli-Palestinian conflict for 15 years, said the intensity of the bombing was "unusual and has never been witnessed before."
More than 1000 Israelis had been killed since Saturday, with more than 3400 Israelis injured. Retaliatory strikes on Gaza had killed at least 770 Palestinians and wounded more than 4000 by Tuesday.
Netanyahu was scheduled to hold his third phone call with US President Joe Biden on Tuesday after the US cautioned Iran and the Lebanese militant group Hezbollah against turning the dispute into a wider regional crisis.
The two leaders were expected to discuss whether some Americans were being held hostage by Hamas in Gaza, Reuters reported. At least 11 Americans have been confirmed dead since the conflict erupted.
Netanyahu vowed that the offensive in the Gaza Strip "has only started" and that authorities were taking every step to find more than 130 hostages being held.
However, the families of four Americans – thought to be captured or missing – said they had not been contacted by anyone in the Israeli government about the search for their loved ones.
The families held a press conference in Tel Aviv on Tuesday, criticising a lack of communication from authorities and appealing directly to the US administration for information.
Jonathan Dekel-Chen, whose 35-year-old son Sagui has been missing since Saturday, spoke of the violence that descended on the Nir Oz kibbutz, where he and his son lived.
"Kibbutz Nir Or is no more. It was destroyed in a barbaric, inhuman attack… We are a community of 400. At the moment, we know of 160 survivors," he said.
"What happened to us, it's not a war. It's not a fair fight. It's a pogrom."
with Reuters, AP
Get a note directly from our foreign correspondents on what's making headlines around the world. Sign up for our weekly What in the World newsletter.
Most Viewed in World
From our partners
Source: Read Full Article