Former schoolteacher avoids prison over 'devious' sexual offending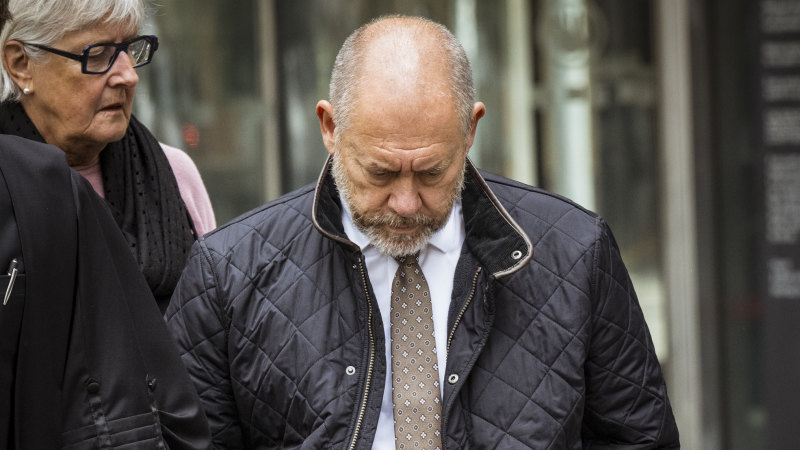 Save articles for later
Add articles to your saved list and come back to them any time.
A former primary school teacher convicted of sexual offending against a 10-year-old boy has avoided prison despite a judge labelling his crime devious and opportunistic.
Gary Boom, 68, was handed a three-year suspended sentence in the County Court on Friday over three charges of incident assault against a 10-year-old boy, meaning that he will not go to prison unless he re-offends within that time.
Former teacher Gary Bloom leaves the County Court last month.Credit: Chris Hopkins
Judge Robyn Harper said his crimes were opportunistic and expressed reservations about the fact that Bloom, who works for oil company Shell and runs a bed and breakfast in the UK, denied that his behaviour was predatory or unwanted when he hung around a group of 10 and 11 year-olds before abusing one child.
"You were not exploring your sexuality, you were sexually assaulting a child some 10 years younger than yourself in a devious and opportunistic way," Harper said.
"[Bloom] accepts certain boundaries around appropriate sexual behaviour, in the context of struggling with his sexuality, were likely obscured, though he denied that he was predatory or engaged in forced or unwanted sexual conduct.
"This runs contrary to the facts of this case where you ingratiated yourself with the victim and his friends before engaging in clearly unwanted sexual conduct with him. It appears your insight into your offending is thus somewhat limited."
The court heard that in 1985, Bloom was working as a teacher at Sacred Heart Primary School in Diamond Creek, in Melbourne's north-east, and as a swimming coach when he began visiting a paddock not far from the present-day Western Ring Road where children were known to frequent.
Prosecutor Emma Fargher said Bloom visited the area almost every second day, and he regularly approached children and spoke to them, showing interest in what they were doing.
One day in 1985, he told his victim to follow him to an area on the other side of some thick trees, where the boy was abused.
"You were not exploring your sexuality, you were sexually assaulting a child some 10 years younger than yourself in a devious and opportunistic way."
Fargher said Bloom later followed the victim in the street and told him not to tell anyone what had happened. "Mr Bloom told the victim that he would find out if he told anyone and that he would get angry," the prosecutor said.
Gary Bloom walks in a gay pride event.
The court heard the victim reported the abuse to police in 2019. Bloom – by then living overseas – was charged and released on bail during a trip back to Australia in December 2021.
He now lives in Aberdeen, Scotland, where he runs a bed and breakfast with his wife. He also works as a geologist with Shell on drilling expeditions.
The court heard that Bloom now identifies as gay.
Judge Harper said that Bloom wrote a letter of apology and had not offended in a similar way since 1985.
"I do accept that you are no longer the young man who committed these offences and that you are now a productive member of society," Harper said.
"Sexual offending against children is all too common and others must be deterred from committing such offences."
But for Bloom's plea of guilty, he would have been sentenced to three years and six months in prison.
For support call Kidshelpline 1800 55 1800, Lifeline 131 114
The Morning Edition newsletter is our guide to the day's most important and interesting stories, analysis and insights. Sign up here.
Most Viewed in National
From our partners
Source: Read Full Article