For some, the path is clear, for others it's still shadowed by doubt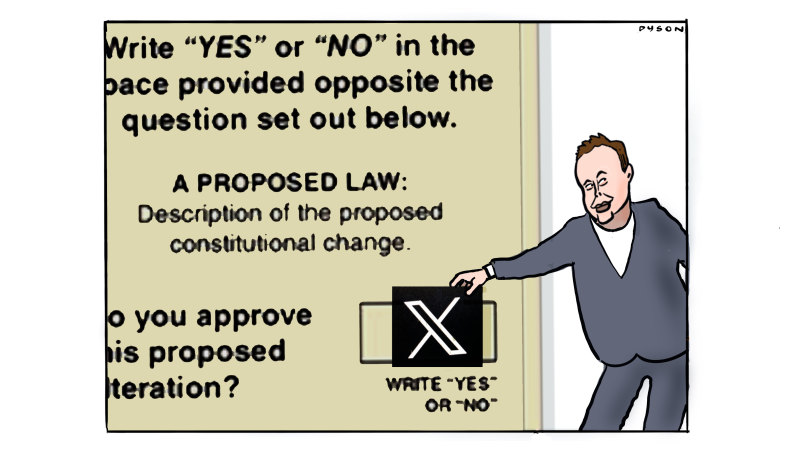 Save articles for later
Add articles to your saved list and come back to them any time.
Credit: Illustration: Andrew Dyson
To submit a letter to The Age, email [email protected]. Please include your home address and telephone number below your letter. No attachments. See here for our rules and tips on getting your letter published.
REFERENDUM
Defining moment
Several years ago I made my third journey to the Kimberley, in a four-wheel-drive truck with an Aboriginal guide at the wheel. With six passengers, all women friends, we were taken into breathtaking places, met people, saw wonders that left us speechless. I nag people planning holidays to go to the far north, meet the people, see their culture and hear their stories. The defining moment for me was standing halfway up yet another escarpment, hands on hips, thinking "I'm too old for this", when a young local Aboriginal guide came dashing across the rocks above me, leaned down and extended his hand to help me up. When I'd made it we both laughed and to this day, I remember his hand in mine – the colour, the texture and the grace with which he extended it to help me.
Gabrielle Gardner, Montmorency
Feelings about No voters
We went to vote early for the referendum. I was surprised when I reacted negatively to the women trying to hand me a how to vote No card – not verbally, but I refused the card. It made me wonder why I reacted this way because everyone has the right to make their mind up about the Voice. I think I did so because I have been upset about the No campaign's use of disinformation, racism and fear for political ends. We have seen too much of this type of politics in America, and it is sad to see it used here on an issue where all Australians should want to see improvement.
Jane Cheong, Aspendale Gardens
End the culture wars
A Yes vote opens up a path to end the culture wars that have plagued our nation for too long. The proposal offers a modern vision of Australia – embodying deep respect for the oldest living civilisation on the planet and our Westminster parliamentary system. The Voice signals a way for us to resolve the pitting of Western traditions against Indigenous history and culture. We can have our cake and eat it too. A popular consensus for change would reshape the conversation about our national story forever.
Kirk Weeden, Frankston
Indigenous not unanimous
No matter which way we vote, some First Nations people will not be supported. Vote Yes and those First Nations people who believe that the establishment of an advisory body to Parliament ("a Voice") being enshrined in the Constitution focuses on division, are not supported. Vote No and those First Nations people who believe that the establishment of a Voice is the best way forward are not supported. It is hard to vote on an issue where the very people the issue relates to are not in agreement.
Wendi Kruger, Croydon South
Fair go
When voting in the referendum, remember that the First Nations people are just asking that we listen to them. If our response is, "Nah, nick off", what does that say about us and the so-called Australian fair go? Poor Fellow My Country.
Sue Peterken, Berwick
THE FORUM
A new public ethos
Are we a nation of racists or of nervous nellies? Probably not racists – after all, 65 per cent of us told the pollsters we'd vote yes when this referendum was first mooted. Hence the prime minister could reasonably have expected this proposal to sail through, as did the 1967 referendum. He didn't bank on the Liberal Party, stripped of its moderate wing by Teal independents, seizing the opportunity to dent Albanese's good intentions and to campaign against the referendum by spreading doubts – about details which could only be worked out after a Yes vote, by parliamentarians in consultation, we'd have hoped, with our First Nations. Social media seems to be generating a new public ethos, fatally gullible to any conspiracy theory, ready to stop vaccinating children despite decades of medical evidence, ready to vote down a constitutional amendment to give a Voice to our First Peoples and take a step towards the reconciliation most of us want.
Rosemary West, Edithvale
Non-sequitur
The Age editorial ("Vote Yes to honour our nation's promise", 13/10) argued that voting Yes is "doing something" and that voting No is a vote for inertia or worse. Both claims are non-sequiturs. Voting Yes may prove futile in terms of Closing the Gap, and furthermore may prove the choice of believers in armchair kindness. Yes is the "set and forget" option. The Age claims too much. Conversely, those who vote no may prove to have a firmer grasp on what it takes to achieve positive change.
Alun Breward, Malvern East
Use your heart
Thank you for so adroitly reminding readers of the tenet – the main purpose – of today's referendum. In her poignant words, Yanyuwa woman Senator Malarndirri McCarthy pleads that voters "listen with your heart…and give dignity to those who ask to be listened to". And today, that is the very least we can do.
Sally Davis, Malvern East
Majority voting on the minority
The plight and welfare of First Nation peoples has been of little concern to the average Australian for decades. Those same Australians are now asked to vote to give Indigenous Australians a Voice in the Australian Constitution. However, some Australians have become concerned having listened to leaders of the No campaign: Jacinta Nampijinpa Price, Peter Dutton, Warren Mundine, and Lidia Thorpe. These advocates seem primarily concerned with thwarting the Labor Party. How tragic that such a deliberate attempt to divide us could be successful.
Chris Burgess, Port Melbourne
Affirmative action
I used to think that equality was about treating all people the same, but in my first year of teaching, I realised that to achieve equal outcomes for all, each person needed to be treated according to their needs. Because of the way First Nations people have been mistreated in the past, their needs are far greater than most of ours, as evidenced in the Closing the Gap report.
Janette Fernando, Woori Yallock
Constitutional recognition
To those well-meaning correspondents who think that the 1967 referendum gave constitutional recognition to Aboriginals and Torres Strait Islanders: it didn't. The 1967 referendum repealed section 127, which included the following statement: "In reckoning the numbers of the people of the Commonwealth, or of a State or other part of the Commonwealth, aboriginal natives shall not be counted." The 1967 referendum put nothing in place of that racist exclusion. As a result, our Constitution contains literally no reference to or mention of our Indigenous brothers and sisters. That is why they need and deserve the recognition accorded by a constitutionally enshrined Voice.
Nick Eckstein, Kangaroo Ground
Land of opportunity
Regardless of how this weekend's Voice referendum unfolds, there are several unassailable truths within Terra Australis that will assuredly hold fast. First, out of the world's 230-odd independent nations, Australia will still remain an enviable destination in which to live. Second, our three civil pillars of an Indigenous heritage, British foundations and a modern-day multicultural character will be sturdy enough to withstand the inevitable public swell of both elation and disappointment that will surely surge once the results are tallied. Third, in our current tremulous geopolitical climate, the wider world won't pay much attention to our domestic affairs. Fourth, and most significantly, the opportunities and agency that currently exist for every Australian – including Aboriginal and Torres Strait Islanders – to improve their lives will continue. What matters in determining one's days to come is not yet more administration but aspiration.
Peter Waterhouse, Craigieburn
Anti-semitism
At a casual dinner in the early days of meeting my Australian, non-Jewish (future) husband, he turned to me and asked "What does it feel like being part of a minority group?" I met his question with bewilderment. In 1988, that question was laughable. But in October 2023, I know only too well how it feels to hear marching protesters and young people chant "gas the Jews, kill the Jews" when they are looking at me… born and bred in Melbourne, child of Holocaust survivors, vehement opponent of the Occupation to the extent that I have refused to set foot in Israel since 2011. I support Palestinian self-determination. I consider the occupation immoral and illegal. Yet, today, I have to bring a change of casual clothes for my grandchildren lest their uniform mark them out as Jews when we go for afternoon tea after school.
Name withheld on request
Oppressed
I am not a historian and do not in any way condone the recent actions of Hamas. However, the current situation seems to me very similar to that of the French Revolution and the overthrow of the Russian Tsars. If a large group of people are oppressed for a long time and all their basic needs are determined by those who hold power over them, some of them will eventually rise and revolt.
Jenny Callaghan, Hawthorn
Deadly enemy
Hamas unleashes hell on Israeli citizens in sadistic and barbarically depraved slaughter, and thereby unleashes a retaliatory hell on the Palestinians of Gaza. What will it take for Gazans and Palestinian supporters to recognise that Hamas is not only Israel's deadly enemy, but also that of the very Palestinian people Hamas claims to fight for? Without the likes of Hamas, there may be a possibility for Palestinians and Jews to find a way to share the land that both have a right to call home.
Deborah Morrison, Malvern East
Mirror image?
I imagine it was with no sense of irony or self awareness that Peter Dutton said "People with that hate in their minds and their heart don't have any place in our society". Dutton is right on one count. However, on everything else about the Gaza protests, he is dead wrong, 13/10). In this instance, he was referring to protesters, but perhaps he should have looked in the mirror before making such a statement.
Ross Hudson, Mount Martha
Fanning the flames
My parents, neither Jewish nor Palestinian, grew up and loved British Palestine. When they left 75 years ago, they told us conflict between these groups was escalating. Benjamin Netanyahu now promises to kill every Hamas member. This will only stoke unprecedented hatred and ensure another 75 years of conflict with whatever terrorists replace Hamas.
Ralph Frank, Malvern East
AND ANOTHER THING

Credit: Illustration: Matt Golding
Referendum
I fear that today my democracy sausage will be replaced by a humanity denying snag.
Jon Smith, Leongatha
Compulsory voting assumes that everyone has an opinion. The referendum has demonstrated that this assumption is too idealistic for reality.
Kevan Porter, Alphington
Two questions to ponder while you queue to vote… If you vote No will Aboriginal Australians' lives be improved? Or if you vote Yes will non-Aboriginal Australians' lives be worse?
Craig Molyneux, Geelong West
Oh the irony. The front page of Friday's Age: at the top, the clear and logical editorial arguing for a Yes vote ("Vote Yes to honour nations promise"); at the bottom, the illogical musings of Ralph Babet (funded by Clive Palmer).
Maryanne Barclay, Frankston South
On this final day of judgment on the referendum I will vote for respect and dignity. I will not suffer if the Yes vote is carried. I have nothing to be afraid of. I choose hope.
Judy Hungerford, Kew
Furthermore
It's pronounced Aus-tra-lians, not Aus-trains, Albo.
David Cayzer, Clifton Hill
With all the wars and conflicts raging around the world one thing is patently clear, no one adheres to the Geneva Convention.
David Eames-Mayer, Balwyn
A question for those women who've chosen not to change their surnames at marriage: is the name you've retained that of your mother or your father?
Dale Crisp, Brighton
Thank goodness we have netballers and women cricketers because our men's rugby team and cricketers can't seem to perform at world series.
Robin Schokman, Doncaster
I cannot comprehend the quoted cost of $11 million to convert a golf course into parkland. Isn't it already parkland? Except for 18 small holes that could be filled with a bit of sand.
Michele Callan, Highton
Patrick Elligett sends an exclusive newsletter to subscribers each week. Sign up to receive his Note from the Editor.
Most Viewed in National
From our partners
Source: Read Full Article