Sweden's Riksbank Raises Rate As Expected; Signals Additional Hike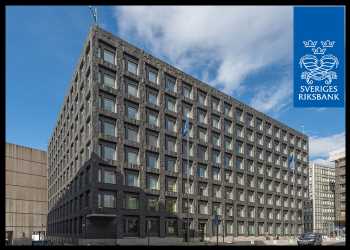 The Swedish central bank raised its key policy rate by a quarter point and hinted at further tightening as inflationary pressures remain too high amid unjustifiably weaker currency.
The Executive Board of Riksbank, led by Governor Erik Thedeen, decided to raise the policy rate by 0.25 percentage points to 4.00 percent.
The board remained hawkish at the meeting as policymakers assessed that inflationary pressures in the economy were still too high.
The Riksbank board said the krona is unjustifiably weak and the weaker currency coupled with rapidly rising service prices are stoking inflation.
Moreover, these factors have increased the risk that inflation will not continue to ease and stabilize around the target sufficiently quickly, the bank said.
The central bank indicated that the interest rates could rise further and the policy needs to be contractionary for a longer period of time for inflation to fall back and stabilize close to the target of 2 percent.
The Riksbank is likely to raise rates by 25 basis points one final time, in November, Capital Economics' economist Jack Allen-Reynolds said.
The housing downturn and deep recession suggest that the central bank will start cutting interest rates early next year, the economist added. That would make it one of the first central banks in advanced economies to pivot to looser policy, Allen-Reynolds said.
Riksbank also announced that it will hedge a part of the forex reserves by selling US$8 billion and EUR 2 billion for Swedish kronor. The currency hedging will be completed fully within four to six months.
This measure is intended to reduce the risk from the currency appreciation and the loss in the foreign exchange reserves.
Economists at ING said the reserve hedging announcement provides two benefits for the currency.
The decision sent a signal that the Riksbank is really expecting krona appreciation and that action in the relatively illiquid FX forward and swap market during autumn means the pace of a SEK recovery can be faster, ING economists noted.
Riksbank downgraded its inflation forecast for 2023 to 8.6 percent from 8.9 percent, but upgraded its 2024 outlook to 4.6 percent from 4.3 percent. For 2025, inflation is seen at 2.4 percent.
The bank expects the economy to contract 0.8 percent this year worse than the 0.5 percent decline estimated previously. Riksbank forecast GDP to shrink 0.1 percent next year, and then rebound 1.9 percent in 2025.
Source: Read Full Article