SEC Chairman Gary Gensler Urges Crypto Regulatory Adherence Ahead of Wednesday's Hearing – Coinpedia Fintech News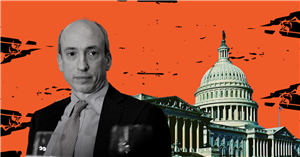 The Chair of the Securities and Exchange Commission of the U.S. stood firm on his opinion that most cryptocurrencies and their firms and exchanges are subject to federal security laws and regulations ahead of Wednesday's hearing.
As per his testimony, Gary Gensler said these securities regulations have "been on the books for decades" and are scheduled to appear before the House Financial Services Committee.  Gensler emphasized that the SEC's role is to protect investors and ensure fair markets, which includes enforcing these existing securities laws. He also expressed the need for additional regulatory clarity in the rapidly evolving cryptocurrency space to address potential risks and promote innovation. 
Given the extensive noncompliance of this business with the securities rules, Gensler stated, "It's not surprising that we've seen many problems in these markets."
Gensler emphasizes the importance of learning from history and applying those lessons to the current situation and says history repeats itself. 
It reminds him of the situation in the U.S. before the federal securities regulations were established in the 1920s. He thereby implied the need for a comprehensive regulatory framework to protect investors and ensure market integrity, similar to the reforms implemented after the 1929 stock market crash. 
In his testimony, Gensler referred to the agency's rulemaking, citing a release from April that claimed DeFi platforms and other crypto platforms already fall under the definition of an exchange.
By addressing these concerns, Gensler believes we can foster a safer and more transparent environment for cryptocurrency markets to thrive. Gensler also stressed the urgency for regulators to keep pace with the rapid growth of the cryptocurrency industry. He proposed implementing stricter supervision and oversight mechanisms to prevent fraud and manipulation and safeguard against potential systemic risks. 
Additionally, Gensler called for enhanced cooperation between global regulators to create a consistent and harmonized approach to cryptocurrency regulations, promoting investor confidence and encouraging greater participation in these markets. Overall, Gensler's vision aims to balance innovation and investor protection in the evolving world of cryptocurrencies.
Source: Read Full Article