Ripple IPO Valuation Predicted to Skyrocket 20x to $600. Will XRP Price Hit New ATH?  – Coinpedia Fintech News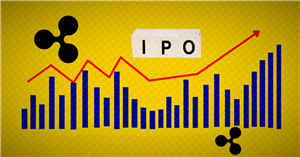 Once a rumor can become today's reality, Ripple's much-anticipated move of the year will be an IPO. IPO has been buzzing since Ripple won the summary judgment, and Ripple's CEO announced a success party for its true XRP community for supporting the native token all through three years.
But one question everyone is keen to know is how Ripple would react when Ripple goes public via an initial public offering (IPO). Will its native token which has been sailing flat at $0.50 for the past few months, resurrect and achieve a new ATH? Let's understand the chances. 
Ripple's Stock to Go $600? If…
Financial veteran Linda Jones, with a seasoned background on Wall Street, has analyzed Ripple's situation from an investor's perspective. She's tossed out a $5.7 billion valuation for Ripple's potential stock, a figure she believes to be quite conservative. Based on Linqto platform data, the per-share price is estimated at $35.
However, Jones has a more bullish scenario in mind. She contends that Ripple, with its hefty XRP holdings and the impressive debut value of Coinbase, could potentially be valued at $107 billion. Should this projection hold, Ripple's stock could be priced at around $600. 
The Logic says it can!
If it all happens, then the analyst is sure that Ripple's stock soars to these anticipated heights; it could also give XRP's price a rocket boost. This situation, though, is quite unprecedented. We've seen Bitcoin's price surge directly impacting the stock prices of Bitcoin mining companies. Applying this logic to Ripple, it's plausible that a surge in its stock price could significantly pique interest in XRP, potentially leading to an uptick in its value. 
Challenges it can face?
Ripple is technically further along the road to IPO, but their problem is that IPO has to go through SEC approval, so it could be delayed unless it moves outside the USA. Can't see them relocating now they have clarity for XRP so that you can bet on Ripple, but I wouldn't expect it too soon.
XRP to Hit New ATH?
Dark Defender predicts XRP will rise to $5.85, a significant increase from earlier projections. Recent price action for XRP is encouraging, and they expect a short-term retest at $0.66. Breaking $0.55 is a critical milestone that might start a bullish trend. This projection covers 2026, demonstrating a lengthy view. Despite its recent underperformance, XRP has the 5th-largest market valuation at $27.9 billion. It trades at $0.523.
In summary, if Ripple's stock hits a projected level, XRP may rally dramatically. Remember that this situation is unique and that Ripple's stock performance and XRP's price are subjective. If Ripple's stock drops, XRP may too, and vice versa. So buckle up—the ride will be surprising!
Source: Read Full Article