Quant Gains Ground And Recaptures $90 Support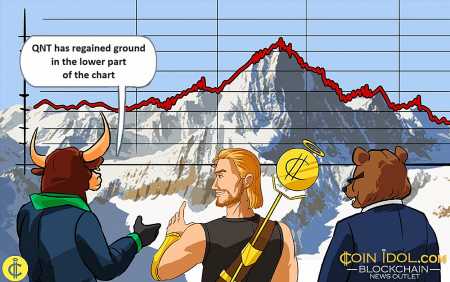 The latest price analysis by Coinidol.com report, the price of Quant (QNT) has continued to fall as the bears break the current price range.
Quant long term price forecast: bearish
QNT is now trading between $90 and $94 in the current price range. The bears have broken through the current price range and reached the $89 price level. After the recent decline, the bulls bought the dips. The cryptocurrency value has risen above the $90 support level. In other words, altcoin has returned to its current price range of $90 to $94. However, the 21-day line SMA has limited the upward movement. The current price range has limited the price movement. If buyers break through the resistance, the altcoin will continue its uptrend. The price of QNT will rise above the moving average lines. The positive momentum will continue until the previous high of $110 is reached. In the meantime, QNT has regained ground in the lower part of the chart.
Quant price indicator analysis
The current decline has driven QNT to the Relative Strength Index of 26 for the 14 period. As the market is oversold, the cryptocurrency's decline has reached bearish exhaustion. Price bars have remained below the moving average lines, leading to the decline. The bullish momentum has stalled above the daily stochastic threshold of 40.
Technical Indicators
Key supply zones: $140, $150, $160
Key demand zones: $90, $80, $70
What is the next move for Quant?
The cryptocurrency asset is currently trading at the bottom of the chart. Buyers are expected to emerge in the oversold zone and push prices higher. On the other hand, QNT is likely to face resistance at the recent high. The moving average lines are currently limiting the upside.
As we reported on September 19, on September 11, the bears broke through the lower price level and reached a low of $90. The bulls bought the dips as the altcoin reached a new price range.
Disclaimer. This analysis and forecast are the personal opinions of the author and are not a recommendation to buy or sell cryptocurrency and should not be viewed as an endorsement by CoinIdol.com. Readers should do their research before investing in funds.
Source: Read Full Article