Gensler Sparks Hope: Bitcoin ETF Approval Under Review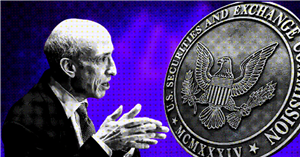 The U.S. Securities and Exchange Commission (SEC) currently has 8–10 spot bitcoin exchange-traded fund (ETF) applications under review, according to SEC Chairman Gary Gensler. This has fueled speculation that the regulatory agency may soon approve the first Bitcoin ETF in the country's history.
Gensler confirmed the number of Bitcoin ETF filings before the SEC during public comments this month. "What we have in front of us, just so that the viewing public understands, we have not one, but multiple; I think it's eight or ten filings that the staff, and ultimately the commission, is considering," he stated in an interview with Bloomberg.
The SEC chief has had a complex relationship with the digital asset industry, recently making a stern remark "Don't get me started on crypto" while speaking at the 2023 Securities Enforcement Forum.
Gensler's spot Bitcoin ETF comments give hope
However, his confirmation that numerous spot bitcoin ETF applications are now under review by SEC staff has bolstered hopes that approval may be imminent.
Major asset management firms such as BlackRock and Fidelity have thrown their hats into the ring, applying for spot bitcoin ETFs this year. The potential approval of such an ETF has been a dominant discussion topic in digital asset circles. Many now predict the SEC will grant approval by the end of 2023.
Bitcoin itself has rallied strongly this week amid the growing regulatory approval speculation. Gensler reiterated on Thursday that the review process is still ongoing for the multitude of filings received. With bitcoin continuing its upward momentum, the industry will be watching closely for the SEC to make a historic decision on spot bitcoin ETF approval.
Source: Read Full Article