FTX founder mulled giving Trump $5B not to run for president, says author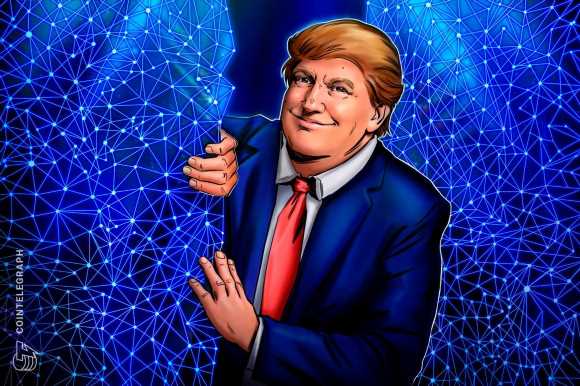 Former FTX CEO Sam "SBF" Bankman-Fried once looked into paying Donald Trump not to run for United States president, according to Michael Lewis, the author of a new book documenting the rise and fall of SBF.
Michael Lewis, author of Going Infinite: The Rise and Fall of a New Tycoon, spoke about the former crypto billionaire and FTX founder in a 60 Minutes interview on Oct. 1.
One of the revelations in the book is that SBF looked into paying Donald Trump not to run for president. "That only shocks you if you don't know Sam," said Lewis before adding:
"Sam's thinking that we could pay Donald Trump not to run for president […] like how much would it take?"
"The number that was kicking around was $5 billion," he added before saying that SBF was unsure if that number came directly from Donald Trump.
SBF was also looking into the legality of it, according to Lewis, who added that "they were still having these conversations when FTX blew up."
It just didn't happen because Bankman-Fried didn't have the $5 billion any longer, he added.
According to Lewis, SBF saw Trump as trying to undermine democracy in the United States, thinking he "belongs on the list of existential risks."
Lewis spent more than 70 days in the Bahamas on a dozen different trips to visit SBF in 2022, and the pair became close. "I would stay in spare bedrooms, so I had codes to every room including the penthouse," he told The Wall Street Journal.
Speaking on the fallout following the collapse of FTX in November 2022, he said:
"It was like the aftermath of Pompeii. Clothes and belongings left behind, frozen in time. Many headed to the airport leaving company cars with the keys inside at the curb."
Cointelegraph contacted legal representatives for Bankman-Fried and Trump. Mark Botnick, who handles communications for the SBF case, said there was no comment from his legal team.
Related: How long could Sam Bankman-Fried go to jail for? Crypto lawyers weigh in
According to the trial schedule calendar released last week, the high-profile Bankman-Fried trial begins on Oct. 3 with jury selection. The trial begins on Oct. 4.
The trial will involve seven fraud cases against SBF, two substantive charges where the prosecution must convince the jury that Bankman-Fried committed the crime, and five other conspiracy charges.
Magazine: Deposit risk: What do crypto exchanges really do with your money?
Source: Read Full Article