Crypto Spot Trading Hits 7-Month High: $24B Volume Surge.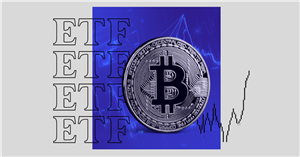 Crypto spot trading volume reaches a 7-month high, surging past $24 billion, fueled by a Bitcoin rally.
The market experiences increased volatility due to anticipation of a Bitcoin exchange-traded fund (ETF), marking the most active period since April.
Key metrics suggest that Bitcoin is in the early stages of a potential bull market.
The recent resurgence of the cryptocurrency market, led by a Bitcoin rally that propelled the flagship digital asset toward the $35k mark, is breathing new life into what had been a relatively tranquil market. Notably, the surge in daily exchange volumes has catapulted the market to its most active state in seven months, with trading volumes on reputable platforms surging past the $24 billion mark on October 26, according to data by The Block.
Stirring the Calm Waters
One of the major factors behind the increased volatility is the anticipation and speculation surrounding the potential launch of a Bitcoin exchange-traded fund (ETF). Enthusiasts and investors in the cryptocurrency market believe that such a development could open new avenues for capital inflow, driving up demand and consequently market dynamics. As a result, volatility levels have surged to heights not witnessed since March, as indicated by the data.
A Bullish Indicator Emerges
In related development, recent report from crypto analytics firm IntoTheBlock suggests that Bitcoin (BTC) may have entered the initial phases of a bull market cycle. In a recent blog post, the firm highlighted the behavior of Bitcoin's market-value-to-realized-value (MVRV) ratio, a key metric that tends to mirror the transition from bear to bull markets.
The MVRV ratio, according to IntoTheBlock, drops below 100% when Bitcoin's market price falls below the average purchasing price of its holders. Historically, bear markets have often bottomed out when the MVRV ratio reaches the range of 70% to 80%, indicating a potential buying opportunity. Conversely, when the MVRV ratio climbs back above 100% following a dip below, it tends to signify the commencement of a bull market.
By analyzing this metric, IntoTheBlock suggests that Bitcoin's bull market began in January. Furthermore, the data indicates that there may be room for further appreciation in Bitcoin's value, potentially reaching levels seen during the concluding phases of previous bull markets, where the MVRV ratio exceeded 300%. In essence, on-chain indicators point towards Bitcoin being in the nascent stages of a promising bull market.
At the time of money, BTC was worth $34,089.
Source: Read Full Article