Coinbase Cancels "Highly Profitable" FTX Europe Acquisition – Coinpedia Fintech News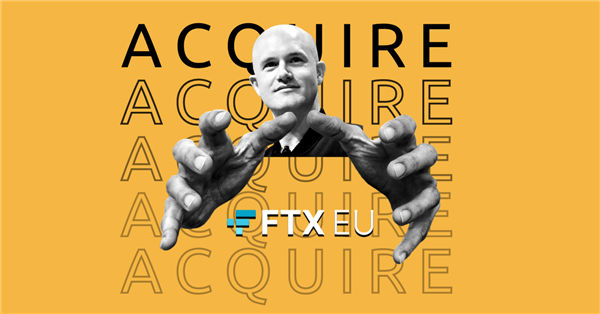 Coinbase pulled the plug on its plans to acquire FTX Europe due to regulatory challenges.

FTX Europe is a highly profitable derivatives exchange that was operating under a Cyprus regulatory licence.

Coinbase is still open to other strategic acquisitions and partnerships.
According to a recent report by Fortune, Coinbase, the U.S. cryptocurrency giant, has officially pulled the plug on its plans to acquire FTX Europe. Initially, Coinbase had aimed to extend its foothold into the European derivatives market through this acquisition. However, the decision was changed after evaluating the regulatory challenges haunting the markets at present.
The High-Stakes Derivatives Market
The allure of FTX Europe lies primarily in its "highly profitable" derivatives business, which had been operating under a Cyprus regulatory licence. Unique among European exchanges, FTX Europe was the only firm licensed to offer perpetual futures—a derivatives product that accounts for a significant chunk of trading volumes. It's worth noting that derivatives represent nearly 75% of the global crypto trading volume, which reached a staggering $2.13 trillion in June, up 13.7% from the previous month.
Coinbase was not the lone contender. Crypto.com and Trek Labs had also expressed their interest in FTX Europe. FTX's European branch had been operating profitably before its parent company declared bankruptcy last fall, which attracted the attention of several exchanges eager to expand their derivatives offerings.
Coinbase's Financial Motivations
Coinbase's most recent quarterly report revealed $707 million in revenue for Q2 2023. Of that, $327 million came from spot trading, marking a 13% decline from the previous quarter. The acquisition of FTX Europe would have been a strategic move to counter this declining revenue. Last August, Coinbase had also gained regulatory approval in the U.S. to offer Bitcoin and Ether futures via its Commodity Futures Trading Commission-regulated exchange, FairX.
Coinbase's withdrawal from the acquisition talks occurs amid increasing regulatory scrutiny on crypto exchanges. Regulatory challenges have been a persistent concern for the firm, especially as it looks to expand its global footprint.
Read More: Coinbase's Multi-Billion Crypto Portfolio Will Leave You Shocked! Here's A Detailed Look
What's Next for Coinbase?
Despite ditching its plans to acquire FTX Europe, Coinbase remains open to other strategic acquisitions and partnerships.
"We continuously evaluate opportunities to expand our business and engage with global teams strategically," said a spokesperson from Coinbase.
Meanwhile, the deadline for the sale of FTX Europe has now been extended to September 24, giving other interested parties a brief window to seal the deal. Meanwhile, FTX is also likely to sell its assets as it owes over $9 billion to its debtors, who recently received court permission to sell off assets.
Also Read: Coinbase Considers Base Token Despite SEC Scrutiny; Paul Grewal Comments
Source: Read Full Article