Bitcoin Price Surges to $35K; 40% Rally Expected in November – Coinpedia Fintech News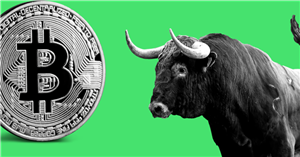 In the past 24 hours, Bitcoin (BTC) has defied bearish expectations, surging past the resistance zone between $31,000 and $32,000 to reach as high as $35,000. This unexpected rally in October, historically dubbed "Uptober" in pre-halving years, has once again caught the attention of the crypto world. Furthermore, this surge led to the liquidation of nearly $310 million worth of Bitcoin short trades.
What Triggered the Bitcoin Price Surge
The Bitcoin price surge unfolded during Tuesday's early Japanese market hours and late New York trading session on Monday. Speculation around the potential approval of spot BTC Exchange-Traded Funds (ETFs) by the United States Securities and Exchange Commission (SEC) played a pivotal role in driving market sentiment. Notably, there are indicators from the Depository Trust and Clearing Corporation (DTCC) website that suggest Blackrock is preparing to launch its iShares Bitcoin Trust.
The early approval of spot Bitcoin ETFs in the United States could have a significant impact on the supply and demand dynamics of Bitcoin, especially with the halving event approximately 180 days away. The crypto community closely watches this development as it could lead to a seismic shift in the market.
Bitcoin Price Action and Predictions
Bitcoin's price has soared more than 100 percent year-to-date (YTD), prompting market experts to declare that the crypto winter is over and spring is on the horizon. According to renowned crypto analyst Captain Faibik, if Bitcoin bulls can maintain their momentum and the weekly candle closes above $31,000, traders may anticipate a 30-40 percent increase in the coming weeks.
As Bitcoin continues to surprise the market with its resilience and upward momentum, investors and enthusiasts eagerly await the SEC's decision on spot BTC ETFs and keeping a close eye on Blackrock's potential entry into the Bitcoin market through its iShares Bitcoin Trust.
Source: Read Full Article