Bernstein Research Say, Crypto Asset Management Industry to Hit $650B in 5 Years from $50B – Coinpedia Fintech News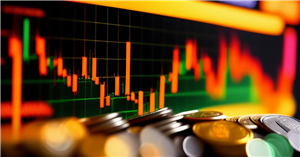 The crypto asset management sector is poised for extraordinary growth, with projections indicating a potential increase to $650 billion in five years, up from its current valuation of $50 billion. This significant surge underscores the rapid evolution of the cryptocurrency landscape.
Cryptocurrency Funds Soaring to $650B in Half a Decade
According to insights from Bernstein, Research analysts, led by Gautam Chhugani, have projected an astonishing growth trajectory for crypto funds, estimating that they could surge to an impressive $500 billion to $650 billion within the next five years. This marks a remarkable leap from the current valuation, which hovers around the $50 billion mark.
The experts at Bernstein Research have found a few critical reasons for this. One of the main reasons is the possibility of something called a spot Bitcoin ETF.
Last month, something really important happened in the world of crypto. A court in the United States said the SEC should reconsider their decision to say "no" to a spot Bitcoin ETF from Grayscale.
The court said it doesn't make sense for the SEC to allow one kind of Bitcoin ETF but not another. The SEC has until mid-October to say if they agree or disagree. This is also when they decide if other companies can make their own Bitcoin products.
Possibility of Crypto Funds Entering the Market by 2024
According to the experts, if the SEC says "yes," we could have Bitcoin funds as early as next year. They also think these funds could be worth about 10% of all the Bitcoin and Ether, another cryptocurrency.
It's not just Grayscale; big companies are getting involved too. names like BlackRock, Fidelity, WisdomTree, and Invesco have asked permission to make their own Bitcoin ETFs, showing that big businesses are interested in crypto.
But it's not just Bitcoin; some companies are also thinking about products related to Ethereum, another kind of cryptocurrency.
PayPal, the company you might use for online payments, has launched called PYUSD a stablecoin, which is like a digital dollar. And Visa, the company known for credit cards, is testing a way to let you pay for crypto stuff with regular money.
The future of crypto asset management looks pretty exciting, with a chance to be worth $650 billion in just five years.
Source: Read Full Article