U.S. Stocks May Regain Ground Following Yesterday's Sell-Off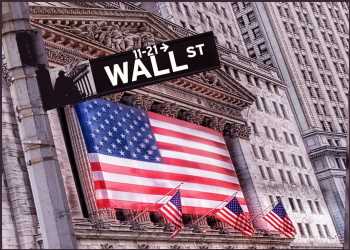 Following the sell-off seen in the previous session, stocks may regain ground in early trading on Wednesday. The major index futures are currently pointing to a higher open for the markets, with the S&P 500 futures up by 0.3 percent.
Bargain hunting may contribute to initial strength on Wall Street, as some traders pick up stocks at reduced levels.
The steep drop seen on Tuesday, which reflected ongoing concerns about the outlook for interest rates, dragged the major averages down to their lowest closing levels in four months.
A pullback by treasury yields may also generate early buying interest, with the yield on the benchmark ten-year note giving back ground after reaching its highest levels in over sixteen years.
Potentially helping ease recent interest rate worries, payroll processor ADP released a report showing private sector job growth slowed by much more than expected in the month of September.
ADP said private sector employment rose by 89,000 jobs in September after climbing by an upwardly revised 180,000 jobs in August.
Economists had expected private sector employment to increase by 153,000 jobs compared to the addition of 177,000 jobs originally reported for the previous month.
The bigger than expected slowdown in job growth was driven by large establishments, which cut 83,000 jobs in September, wiping out the jobs they added in August.
Shortly after the start of trading, the Institute for Supply Management is scheduled to release its report on service sector activity in the month of September.
The ISM's services PMI is expected to slip to 53.6 in September from 54.5 in August, although a reading above 50 would still indicate growth.
The Commerce Department is also due to release its report on new orders for manufacturing goods in the month of August. Factory orders are expected to rise by 0.3 percent.
With traders continuing to express concerns about the outlook for interest rates, stocks moved sharply lower over the course of the trading day on Tuesday. The major averages all showed substantial moves to the downside after ending Monday's trading mixed.
The major averages climbed off their worst levels going into the close but still posted steep losses. The Dow slumped 430.97 points or 1.3 percent to 33,002.38, the Nasdaq plunged 248.31 points or 1.9 percent to 13,059.47 and the S&P 500 tumbled 58.94 points or 1.4 percent to 4,229.45.
With the significant decreases on the day, the major averages all ended the session at their lowest closing levels in four months.
In overseas trading, stock markets across the Asia-Pacific region moved notably lower during trading on Wednesday. Japan's Nikkei 225 Index plummeted by 2.3 percent, while Hong Kong's Hang Seng Index slid by 0.8 percent.
Meanwhile, the major European markets are turning in a mixed performance on the day. While the U.K.'s FTSE 100 Index is down by 0.2 percent, the German DAX Index is up by 0.3 percent and the French CAC 40 Index is up by 0.5 percent.
In commodities trading, crude oil futures are plunging $2 to $87.23 a barrel after rising $0.41 to $89.23 a barrel on Tuesday. Meanwhile, an ounce of gold is trading at $1,841, down $0.50 compared to the previous session's close of $1,841.50. On Tuesday, gold fell $5.70.
On the currency front, the U.S. dollar is trading at 148.91 yen compared to the 149.02 yen it fetched at the close of New York trading on Tuesday. Against the euro, the dollar is trading at $1.0513 compared to yesterday's $1.0467.
Source: Read Full Article