U.S. Manufacturing PMI Climbs To Ten-Month High In September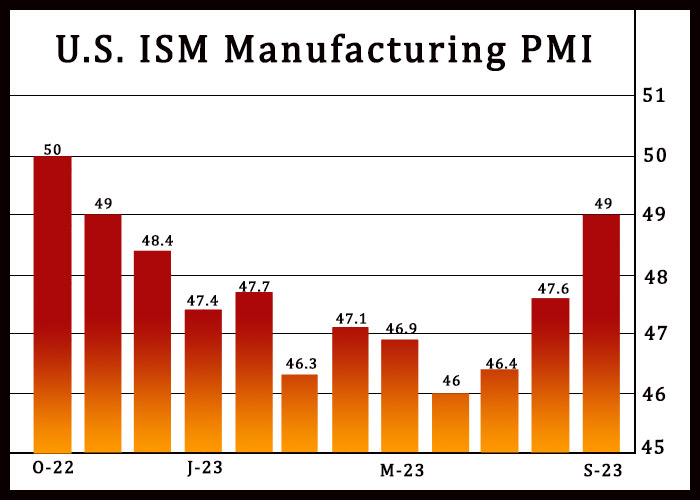 The Institute for Supply Management released a report on Monday showing a modest slowdown in the pace of contraction in U.S. manufacturing activity in the month of September.
The ISM said its manufacturing PMI rose to 49.0 in September from 47.6 in August, although a reading below 50 still indicates a contraction. Economists had expected the index to inch up to 47.7.
"The U.S. manufacturing sector continued its contraction trend but at a slower rate, recording its best performance since November 2022, when the PMI also registered 49 percent," said Timothy R. Fiore, Chair of the ISM Manufacturing Business Survey Committee.
He added, "Companies are still managing outputs appropriately as order softness continues, but the month-over-month PMI improvement in September is a clear positive."
The modest increase by the headline index came as the new orders index increased to 49.2 in September from 46.8 in August, while the production index climbed to 52.5 in September from 50.0 in August.
The employment index also rose to 51.2 in September from 48.5 in August, indicating a turnaround in employment in the manufacturing sector.
Meanwhile, the ISM said the prices index slid to 43.8 in September from 48.4 in August, suggesting prices decreased at a faster rate.
"The Prices Index remained in 'decreasing' territory, 4.6 percentage points lower than the August reading, signifying a return to price reductions, but energy costs in August and September could possibly affect future material costs," said Fiore.
The ISM is scheduled to release a separate report on service sector activity on Wednesday. The services PMI is expected to dip to 53.6 in September from 54.5 in August.
Source: Read Full Article