U.S. Existing Home Sales Plunge Much More Than Expected In October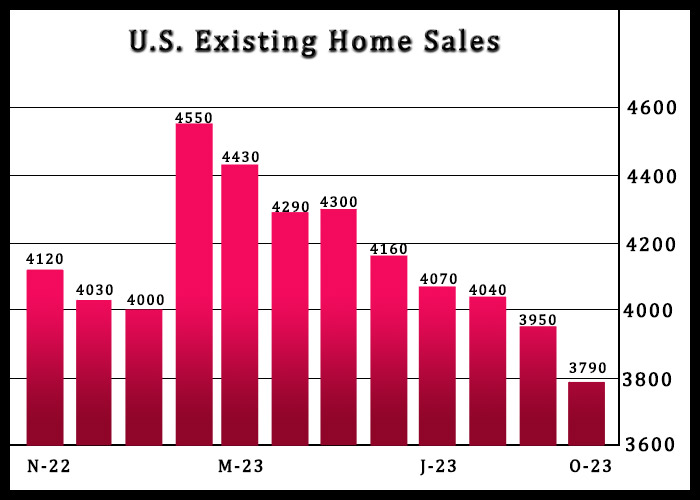 Existing home sales in the U.S. tumbled by much more than expected in the month of October, according to a report released by the National Association of Realtors on Tuesday.
NAR said existing home sales plummeted by 4.1 percent to an annual rate of 3.79 million in October after plunging by 2.2 percent to a revised rate of 3.95 million in September.
Economists had expected existing home sales to slump by 1.5 percent to a rate of 3.90 million from the 3.96 million originally reported for the previous month.
With the much steeper than expected drop, existing home sales fell to their lowest level since August 2010.
"Prospective home buyers experienced another difficult month due to the persistent lack of housing inventory and the highest mortgage rates in a generation," said NAR Chief Economist Lawrence Yun.
He added, "Multiple offers, however, are still occurring, especially on starter and mid-priced homes, even as price concessions are happening in the upper end of the market."
The report said housing inventory at the end of October totaled 1.15 million units, up 1.8 percent from 1.13 million units in September but down 5.7 percent from 1.22 million units a year ago.
The unsold inventory represents 3.6 months of supply at the current sales pace, up from 3.4 months in September and 3.3 months in October 2022.
The median existing home price in October was $391,800, an increase of 3.4 percent from $378,800 in the same month last year.
"While circumstances for buyers remain tight, home sellers have done well as prices continue to rise year-over-year, including a new all-time high for the month of October," Yun said. "In fact, a typical homeowner has accumulated more than $100,000 in housing wealth over the past three years."
Source: Read Full Article