Russia Central Bank Lifts Key Rate By 100 Bps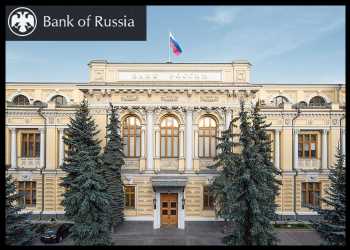 Russia's central bank delivered another sharp interest rate hike on Friday, citing crystallizing significant proinflationary risks.
The board of directors of the Bank of Russia decided to raise the key rate by 100 basis points to 13.00 percent. The outcome of the meeting widely matched the expectations.
The bank had previously hiked the rate by 350 basis points at an emergency meeting in August after the ruble breached 100 against the US dollar.
"Significant proinflationary risks have crystallised, namely the domestic demand growth outpacing the output expansion capacity and the depreciation of the ruble in the summer months," the bank said in the statement.
The bank said it will maintain tight monetary conditions for a long period to bring inflation back to the target and to further stabilize it close to 4 percent.
The bank estimated annual inflation to stay at 6.0 to 7.0 percent this year before returning to 4 percent in 2024 and stay close to 4 percent further on.
Largely reflecting the pass-through effect of the ruble weakness, current inflationary pressure intensified. The elevated demand for imports was the major reason for the depreciation of the ruble, the bank noted.
The central bank said the monetary policy will create the conditions for returning the economy to the balanced growth path. The bank expects the economy to grow 1.5-2.5 percent this year and 0.5-1.5 percent in 2024.
For 2025, economic growth is seen at 1.0-2.0 percent and 1.5-2.5 percent in 2026.
"With fiscal policy set to remain loose, the economy likely to continue overheating and inflation pressures to build further, there will be more pressure on the central bank to tighten monetary policy," Capital Economics' economist Liam Peach said. The economist expects an additional 150 basis point of tightening by year-end.
Source: Read Full Article