Ron DeSantis Insists Disney Has No Right To Sue Him; Florida Governor Wants "Last-Ditch" Case Chucked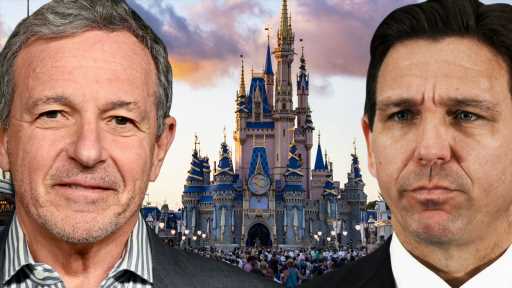 Ron DeSantis was in Anaheim on Friday speaking at the California Republican Party Fall Convention. However, a new filing in federal court this week reveals that if it were up to the Florida governor, he'd get as far away from Disney as he can — on both coasts.
Responding to the latest amended complaint from the Bob Iger-run Disney, lawyers for DeSantis this week asserted that DeSantis and the secretary of Florida's Department of Commerce don't "enforce any of the laws at issue, so Disney lacks standing to sue them."
Or, to cut through the legal-eze and go straight to populist soundbite decrying the now-First Amendment-focused action, DeSantis says the real point of the suit isn't freedom of speech. Instead, he claims it's a "last-ditch effort" by Disney "to reinstate its corporate kingdom" in the Sunshine State.
Related Stories
Breaking News
Joe Biden Calls Dianne Feinstein "Pioneering American, True Trailblazer And Cherished Friend"
Marketing
'The Creator' Looks To Turn Moviegoers Into Believers: How Disney Marketed Gareth Edwards' Original Sci-Fi Pic
Read DeSantis' response to Disney's 2nd amended complaint filed Thursday.
Echoing a filing Thursday by defendants from the February-appointed Central Florida Tourism Oversight District, Florida's Attorney General once again is angling for DeSantis to get the "meritless" matter dismissed. Failing that, they want the courts to "at minimum, dismiss all claims against the State Defendants."
Contacted by Deadline today, the Disney had no comment on this fresh jab in the bare-knuckles legal brawl between themselves and MAGA-man DeSantis.
Not that the intentions of the Disney World's parent company are altogether unknown.
Initially, Disney sued the vehemently "anti-woke" DeSantis, officials from his administration and the CFTOD Board in April, claiming they'd violated the company's First Amendment rights by retaliating against its eventual opposition to a parental rights law, also known as the "don't say gay" bill. Not long after, Florida sued back in state court.
With both sides seeking to kneecap the other, Disney in May filed a first amended complaint in the federal case, full of further examples of onerous Sunshine State legislation directly intended to strip Disney of its jurisdiction in and around Disney World.
As DeSantis' 2024 POTUS bid launched with a disastrous Twitter debut, former mentor and now arch-rival Donald Trump and President Joe Biden mocked the governor for getting in a shooting war with Disney. Eventually recognizing the damage battling one of his state's largest private employers and investors was causing, DeSantis in August asserted that he had "moved on" from fighting with the home of Mickey Mouse and they should just drop their suit against him.
That proved about as successful as DeSantis has been at convincing GOP voters to pick him over Trump to be the party's nominee. Earlier this month, Disney was given the thumbs up from U.S. District Judge Allen Winsor to file a second amended complaint and pursue purely constitutional pathways to push back on DeSantis' "retribution."
Disney may have had nothing to say about the latest filing, but perhaps DeSantis will bring it up during his interview on HBO's Real Time with Bill Maher tonight. It may be the last chance he has before what looks to be the inevitable collapse of his campaign next year.
Must Read Stories
Writers Rooms Reopen: 'Grey's', '9-1-1', 'NCIS', 'Abbott' & 'Yellowjackets' First Back To Work
Floods Forcing Big Cinemas To Close; SAG-AFTRA Picket Canceled; NYFF Is On
Allen Hughes & Other Doc Filmmakers React To Murder Charge In Rapper's Killing
Marvel Execs Eye Meetings Soon To Hear Writers' Pitches For Coveted 'X-Men' Job
Read More About:
Source: Read Full Article