Mack Trucks, UAW Union Reach Tentative Deal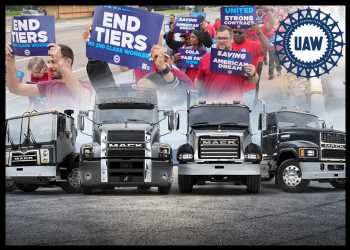 Mack Trucks, owned by Swedish commercial vehicle manufacturer Volvo Group, and United Auto Workers or UAW union announced that nearly 4,000 union members has reached a tentative agreement, in a last minute move avoiding strike.
The new five-year contract covers about 3,900 employees at facilities in Pennsylvania, Maryland and Florida.
The agreement now requires to be ratified by UAW members, and the union will schedule ratification meetings.
The union, which is continuing its strike against the Big Three General Motors, Ford and Chrysler parent Stellantis, revealed the news on the social media platform X, formerly known as Twitter. It said more details about the tentative agreement will be revealed as members review the deal.
Meanwhile, Mack President Stephen Roy in a statement said, "The terms of this tentative agreement would deliver significantly increased wages and continue first-class benefits for Mack employees and their families. At the same time, it would allow the company to successfully compete in the market, and continue making the necessary investments in our people, plants and products."
About 12,700 UAW members had started their Stand Up Strike at one each plant of Detroit's Big Three by September 15 after the expiration of the then four-year collective bargain agreement ended without reaching deals with the workers.
The UAW, which represents about 146,000 workers at the three major automobile manufacturing companies, proposed 40 percent hourly pay increases over the next four years.
UAW later significantly expanded its walkout to various plants of General Motors, and Chrysler parent Stellantis, while it skipped further Ford plants.
Last week, President Joe Biden said that the members of the striking UAW union members deserve the 40 percent pay hike that they are demanding.
Source: Read Full Article