GM Reaches Tentative Deal With Canadian Union; Strike On Hold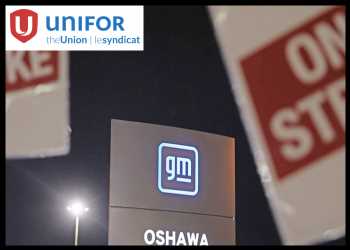 General Motors Co. has reached a tentative agreement with Canadian union Unifor, ending a strike in its Canadian plants seeking better contract terms. The move comes as the auto major's various US plants are continuing to be hit by United Auto Workers or UAW union's ongoing strike over demands for better pay and benefits.
GM Canada on the social media platform X, formerly known as Twitter, said, "Today, GM Canada reached a tentative agreement with @UniforTheUnion covering approximately 4,200 represented employees at St. Catharines Propulsion Plant, Oshawa Assembly & Operations, and Woodstock Parts Distribution Centre. Work will resume at all 3 facilities this afternoon."
Members of Unifor, Canada's largest union with 315,000 workers, at these GM plants had begun strike at midnight on Tuesday saying the company stubbornly refused to meet the pattern agreement. The union now said the strike actions are on hold to allow the membership to vote on the tentative agreement.
The new three-year tentative agreement covers autoworkers at Unifor locals 222, 199 and 636. Meanwhile, Unifor Local 88 members at the CAMI Assembly Plant in Ingersoll, Ontario continue operations as they are covered by a separate collective agreement.
Unifor National President Lana Payne stated that GM's comprehensive tentative agreement follows the pattern set at Ford Motor Co., including all items such as pensions, retiree income supports, and converting full-time temporary workers into permanent employees over the life of the agreement.
It was in late September that the union members had ratified a new three-year collective labor agreement with Ford Motor's Canadian unit., preventing possible walkouts.
As per the new GM tentative deal, the workers will get base hourly wage increases of nearly 20% for production and 25% for Skilled Trades over the lifetime of agreement.
There will be general wage increases in each year of the agreement with 10% in year one, 2% in year two, and 3% in year three. It has also been agreed with reactivation of the Cost of Living Allowance or COLA in December 2024. There will be $10,000 Productivity and Quality bonus for full-time employees, including current temporary full-time, as well as $4,000 for Temporary Part Time.
Meanwhile, members of the UAW, the striking union in the U.S., are continuing to be away from their job at select plants of the Big Three – GM, Ford, and Chrysler parent Stellantis.
About 12,700 UAW members had started their Stand Up Strike at one each plant of Detroit's Big Three by September 15 after the expiration of the then four-year collective bargain agreement ended without reaching deals with the workers.
The UAW, which represents about 146,000 workers at the three major automobile manufacturing companies, later significantly expanded its targeted walkout to various plants, bringing the total number of Big Three strikers to more than 25,000 members at 43 facilities in 21 states.
Earlier this week, about 3,900 members of the UAW union working with Mack Trucks, owned by Swedish commercial vehicle manufacturer Volvo Group, had joined the striking autoworkers after rejecting a recently agreed tentative deal.
Source: Read Full Article