ExxonMobil To Buy Pioneer In $60 Bln All-stock Deal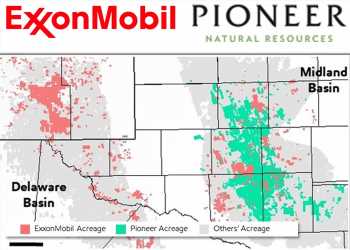 Energy major Exxon Mobil Corp. announced Wednesday its agreement to acquire Pioneer Natural Resources Co. in an all-stock transaction valued at $253 per share or $59.5 billion in total. The implied total enterprise value of the deal, including net debt, is around $64.5 billion.
In pre-market activity on the NYSE, ExxonMobil shares were losing around 3 percent to trade at $107.14, while Pioneer shares were gaining around 2 percent to trade at $242.21.
ExxonMobil Chairman and CEO Darren Woods said, "The combined capabilities of our two companies will provide long-term value creation well in excess of what either company is capable of doing on a standalone basis. Their tier-one acreage is highly contiguous, allowing for greater opportunities to deploy our technologies, delivering operating and capital efficiency as well as significantly increasing production."
As per the deal, Pioneer shareholders will get 2.3234 shares of ExxonMobil for each Pioneer share at closing.
The per-share merger consideration represents around 18 percent premium to Pioneer's closing price and a 9 percent premium to its prior 30-day volume-weighted average price on October 5.
Last week, the Wall Street Journal had reported that ExxonMobil was nearing to make its biggest acquisition since merging with Mobil Corp. in 1999 that would make it a top producer in the US oil basin.
The acquisition of Pioneer, a diversified energy company with the largest footprint of high-return wells in the Permian Basin, is anticipated to be accretive immediately and highly accretive in the mid-to-long-term earnings per share of ExxonMobil.
Both companies' Boards of Directors have unanimously approved the deal, which is expected to close in the first half of 2024, subject to customary regulatory reviews and approvals.
The merger combines Pioneer's over 850,000 net acres in the Midland Basin with ExxonMobil's 570,000 net acres in the Delaware and Midland Basins. On a combined basis, the companies will have an estimated 16 billion barrels of oil equivalent resource in the Permian.
Post transaction, ExxonMobil's Permian production volume would double to over 1.3 million barrels of oil equivalent per day or MOEBD, based on 2023 volumes, and would increase to around 2 MOEBD in 2027.
By 2027, short-cycle barrels will comprise more than 40 percent of the total upstream volumes. This would position the company to more quickly respond to demand changes and increase capture of price and volume upside.
As part of the deal, ExxonMobil intends to leverage its Permian greenhouse gas reduction plans to accelerate Pioneer's net zero emissions plan by 15 years, to 2035.
In the transaction, Citi acted as lead financial advisor, and Centerview Partners as financial advisor to ExxonMobil. Goldman Sachs, Morgan Stanley, Petrie Partners and Bank of America Securities acted as financial advisors to Pioneer.
Exxon's CEO Darren Woods in July had said that the company would continue to review potential M&A.
Reports had emerged in April that ExxonMobil held talks to take over the oil and gas exploration and production company.
In its recent second quarter, Pioneer reported earnings of $1.10 billion or $4.55 per share, lower than last year's $2.37 billion, or $9.30 per share. Adjusted earnings were $1.09 billion or $4.49 per share for the period. The company's revenue for the quarter fell 33.5 percent to $4.60 billion.
Source: Read Full Article