Media aggregator Esports Gold announces $5 million ICO
Ethereum token sale will fund development of integrated betting and entertainment platform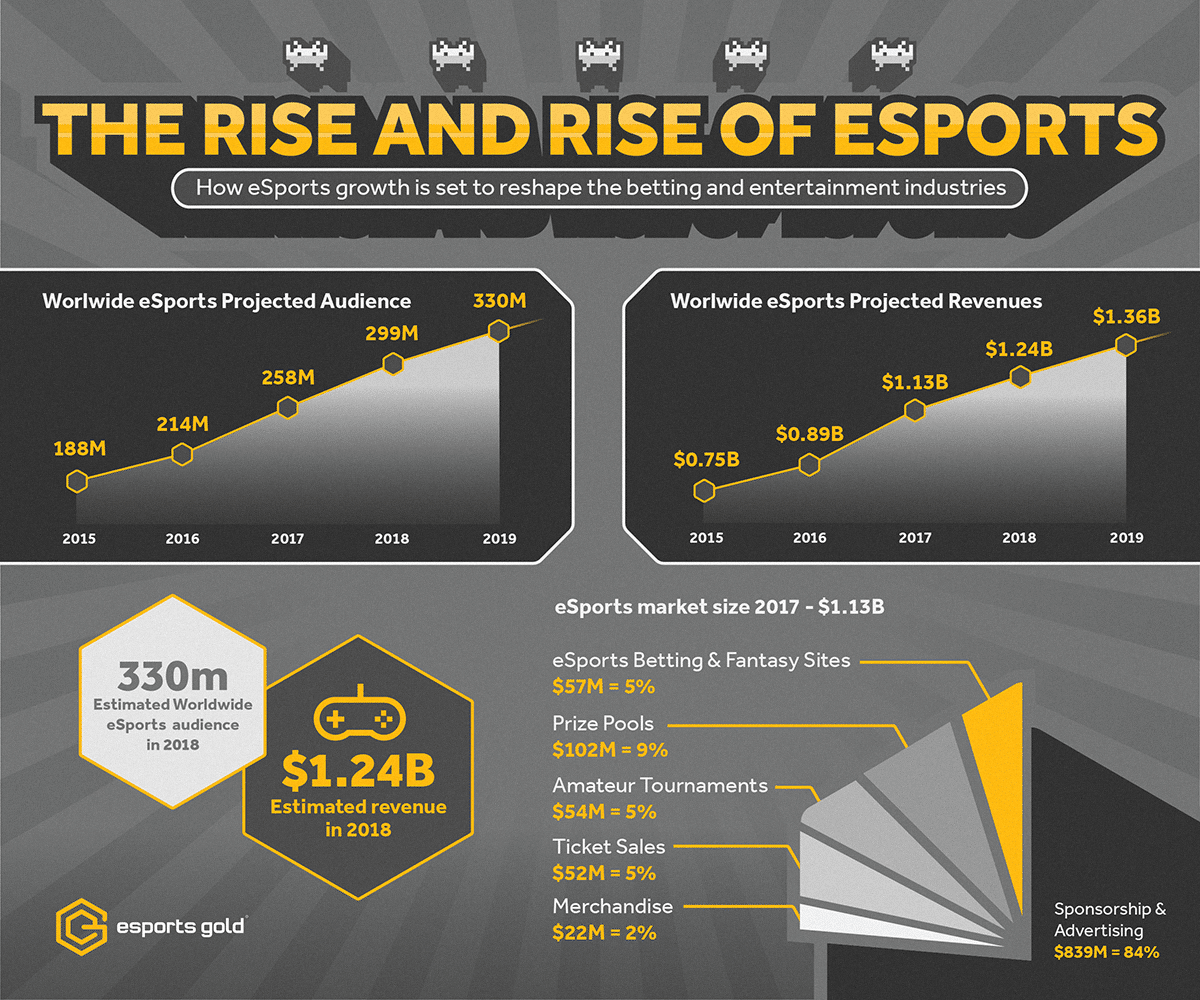 London, Monday 16th October, 2017 – Esports Gold, a leading online media aggregator for the eSports community, is to launch an initial coin offering (ICO) with the aim of raising $5.4 million in Ether tokens to establish the first all-encompassing eSports entertainment hub.
Esports Gold aims to consolidate what is a fragmented industry into a single platform, hosted on the blockchain, providing the community with an ethical eSports betting platform and content aggregator including streaming, reviews and data provisions.
The fully-costed ICO, which will provide investors with its ESG tokens, begins today, 16th October, and will offer combined exposure to eSports, which is estimated to have a market value of $1.24bn next year, and cryptocurrency.
Early investors will gain a discount when purchasing the tokens, providing them with 300 ESG for every Ether invested, compared to 100:1 after the initial cap has been reached.
The ICO has assembled a strong and varied advisory board of experts, led by director Sean Hynes who is trained as a chartered accountant and has primarily advised on M&A in recent years.
He is joined by Danny Meaney, founder of UP Ventures which specialises in digital start-ups, Raj Sharma, previously financial director of Virgin Games, now part of Gamesys, and technology entrepreneur Brendon Thomas.
The betting product, to be fully regulated under the UK Gambling Commission and Malta Gaming Authority, and based on the FSB Technology platform, will look to offer its players a much more expansive betting offering compared to what's currently available, with more specific eSports markets and a wider number of titles covered, including Smite, Heroes of the Storm, FIFA and Call of Duty.
Development of the website is already underway and the ICO will ensure the roadmap can be delivered in full by its experienced team.
Sean Hynes, Director of Esports Gold, said: "The eSports community has remained fragmented despite its meteoric rise in recent years. We believe our platform will bring gamers and bettors together for the first time in one functional, entertaining online space.
"The Esports Gold white paper is a comprehensive outline of our vision, and with such a strong technical and legal backing from experts across various sectors, investors can be confident in its success when the proposed platform is rolled out.
"We have grown frustrated with the make-up of the eSports space in recent years and we're sure other players and fans feel the same. Our proposed solution will finally bring news, content and betting into one functional site."
Esports Gold has released its white paper outlining how it will provide the holistic offering in one platform. It underlines the following:
How Esports Gold will consolidate various areas of the esports community and the development process behind this
How Esports Gold will provide a secure, profitable investment opportunity through its Ethereum-based ESG token, with fully-costed financial projections
How Esports Gold's betting product will disrupt and add to the limited offering currently available
For more information on the Esports Gold ICO, please visit www.esportsgoldico.com, and to contribute, the address of the ICO is at '0x3744942C42451c2B42F43a51eE9bB6c6ad0FDc86'
About Esports Gold
Esports Gold is a leading eSports entertainment platform, media aggregator and consultancy. The company's objective is to consolidate eSports media and betting into one space, via an Ethereum ICO in Q4 2017.
Operating from the UK, Esports Gold offers written and video content sourced from numerous contributors and websites within the community.
It also offers various business tools for its industry peers, including data feeds, market analysis, consultancy services and sponsorship advice.
Formed in 2016 and backed by an experienced advisory board, Esports Gold sits at the crossroads of eSports and cryptocurrency and will disrupt the status quo with its unparalleled eSports offering.
Source: Read Full Article