These Are the Most Rewarding Crypto Faucets in January 2021
Crypto faucets are an easy way to get some free cryptocurrencies. There are different types out there. Some give out only a single cryptocurrency, e.g., Bitcoin (BTC), while others give out multiple cryptos. Even if you don't need money to purchase them, there are certain requirements. Some faucets require that you perform some tasks to get rewarded with crypto, while you only have to "spin the wheel" for others.
This article discusses the most rewarding crypto faucets in January 2021. If you are looking for a way to get free crypto, you have come to the right place. Just read on and find out the best faucets you can use to get the highest amount of crypto possible.
MoreMoney.io
This is a relatively new crypto faucet. It, however, pays out one of the best rewards available. With MoreMoney, you can earn as much as $500 within an hour by spinning the wheel on this faucet. That is not all, as you can earn even more by engaging in some fun activities. These include visiting short links, completing PTC and offerwalls. This generous faucet also pays you a 25% referral commission on the earnings of any number of people you refer to it using your referral link. If you are looking for a faucet that gives huge rewards with minimal effort, MoreMoney is here for you.
Freebitcoin.io
This faucet needs no introduction, as it is a top one in the space. It is also a very rewarding one with a lot of goodies for its users; no wonder it has over 350,000 registered users. You can make as much as $300 worth of Bitcoin in an hour with this cryptocurrency faucet. While this is not as high as Moremoney.io, Freebitcoin offers a 50% referral commission, which is the highest commission ever. Once users reach a threshold amount, they can instantly withdraw their balance to their personal Bitcoin wallets.
Free Dogecoin
Free Dogecoin is another great cryptocurrency faucet. It is dedicated to the fun, dog-themed Dogecoin, a cryptocurrency that has attracted a lot of attention in the few years of its existence. You can win up to $150 in Dogecoin every hour and up to 145,000 DOGE in a single spin. Spins can be repeated every hour to increase rewards.
Apart from your own earnings, you can refer your friends to the faucet and get 50% commission on all of their rewards for life. A free lottery ticket is also available to you every time one of your referrals plays to win. Rewards can be easily withdrawn to your personal wallet either by you or automatically set up to send your DOGE every Saturday.
Allcoins PW
This is a multicurrency faucet that supports a lot of top cryptocurrencies, such as Ethereum and XRP, among others. You can get any of these cryptocurrencies out of Allcoins PW, and the interesting thing is that you can always exchange one for another. The faucet rewards users for doing fun stuff like playing games and completing offerwalls. What is really cool about this faucet is that you can actually use it to mine cryptocurrencies. Once you accumulate enough, you can easily withdraw your rewards either to FaucetHub or directly to your personal wallet.
Bitcoin Aliens
For those who enjoy using their mobile devices so much, Bitcoin Aliens is a cryptocurrency faucet they can use to get some great rewards on the go. This faucet basically rewards you for playing games, something most mobile phone owners find interesting to do. There are a number of cryptocurrencies you can earn, including Bitcoin, Litecoin, and Bitcoin Cash. Bitcoin Aliens already has over 2.5 million users, and you can be one of them. Just install the app, and you are good to go!
Faucet Crypto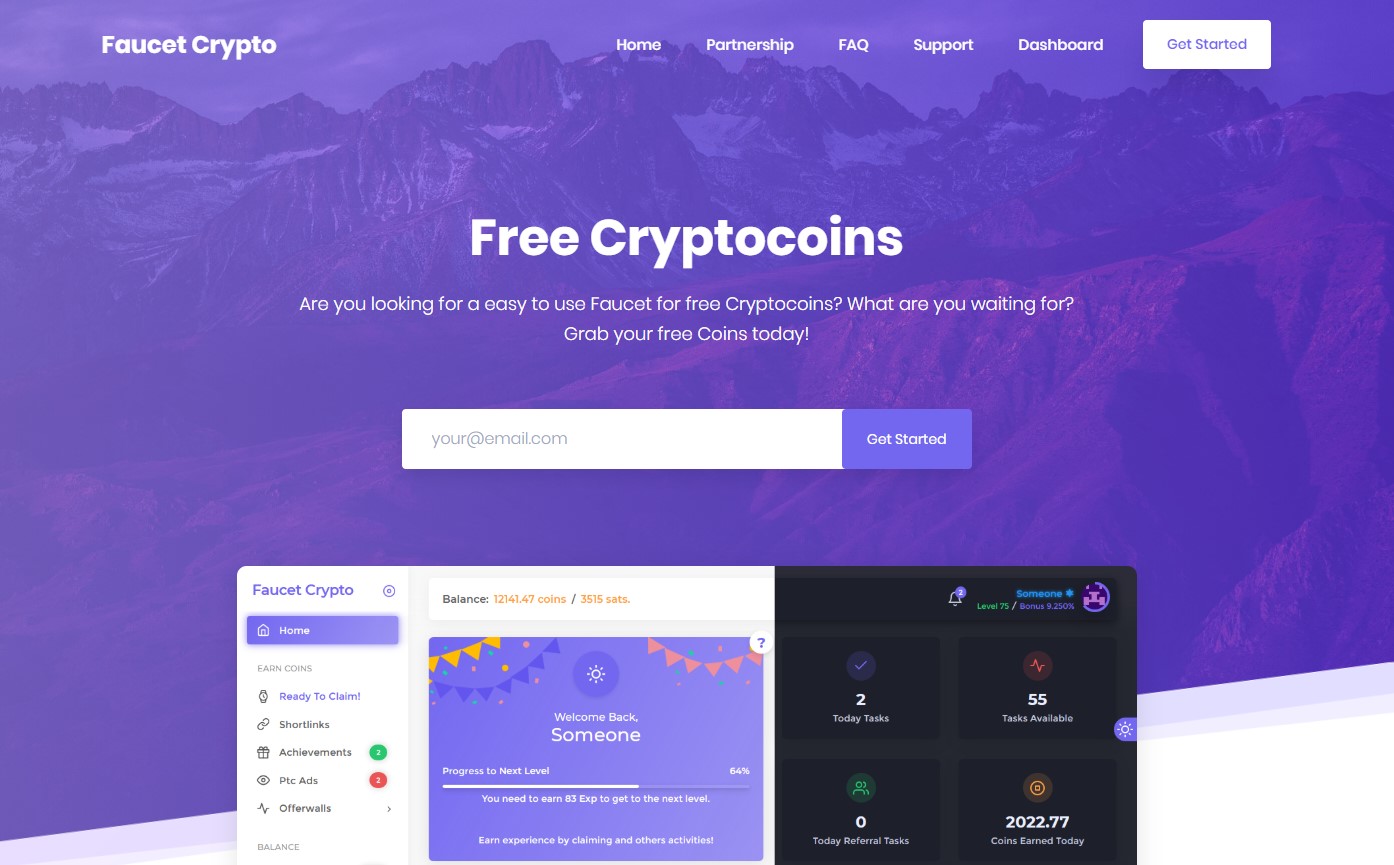 This is another multicurrency faucet. You can earn a number of cryptocurrencies, including Ethereum, for which Faucet Crypto is well known. Just do a few tasks, such as viewing ads, or do shortlinks to get massive rewards. You can also refer your friends and get a 25% commission on their rewards in addition to your own. You can easily withdraw your balance once it reaches the threshold of 0.00012 ETH at no cost at all.
Free Faucet
Free Faucet is one crypto faucet you should go to if you are looking for free Bitcoin and altcoins. Just click on the "claim" button when to register and get rewarded with cryptocurrency. There are 17 cryptocurrencies, so you can claim your favorite ones; it is all up to you. Apart from this, Free Faucet allows you to earn more by doing surveys, completing offers, and viewing promoted posts. The website is also an educational one that teaches you about your favorite currencies, so if you want to get a little savvier concerning your favorite digital assets, visit this website to learn and earn.
Bonus Bitcoin
This list will not be complete without mentioning Bonus Bitcoin, one of the websites that churn out free BTC. This faucet has a time interval of 15 minutes between spins that can give you as much as 5,000 Satoshis in one spin. You can earn much more with this faucet because of the short time interval between spins compared to other faucets that take one hour.
What's more? You can earn 50% of your referral's earnings if you refer them to the faucet, and you will always get paid 5% of your account balance overnight as long as you continue to claim. Bonus Bitcoin is also one of the oldest faucets with a lot of users, so it is also one of the most trusted. If you want some free Bitcoin with no risk, then this is a faucet to consider.
Conclusion
These are the most rewarding cryptocurrency faucets you will find in January 2021. If you feel like getting some free cryptocurrencies, including Bitcoin, jump on any of these faucets and start earning. The good news is that you can sign up for all of the above and increase your earnings significantly.
Featured image: news.gab.com
Source: Read Full Article