'IPO won't change how Zomato operates'
'We work with a very large restaurant base, we make sure that we're doing the right thing by them, and we're helping them grow because we'll grow only when they do.'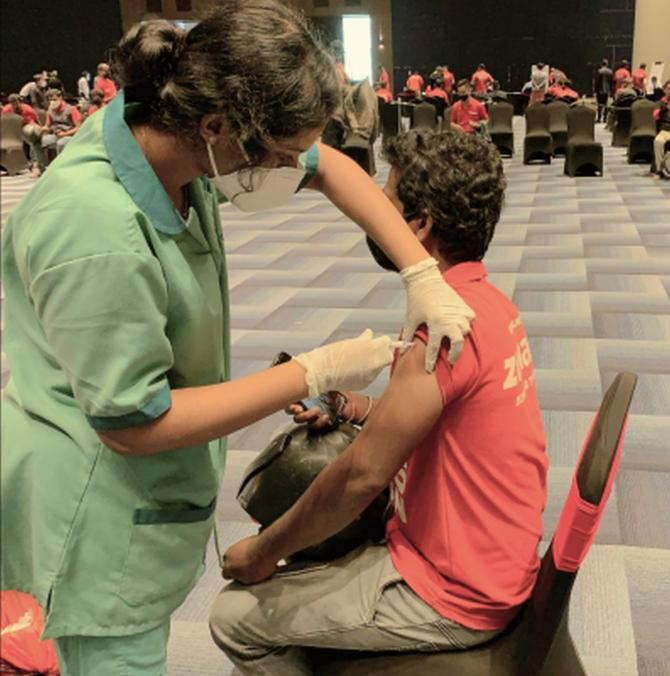 On the day that Zomato announced its initial public offering, Gaurav Gupta, co-founder, and Akshant Goyal, chief financial officer, spoke to Neha Alawadhi about the food delivery major's plans, and say the firm is trying to fix its relationship with the NRAI.
How has Zomato's journey been so far — from its early days to IPO?
Gaurav: The last 18 months have not been easy because of COVID-19, but it's heartening to see how the ecosystem, especially the restaurant industry, has managed to deliver food to customers safely.
The last four or five years have been very interesting, where Zomato transformed from being a search-and-delivery platform to a transaction platform. We are doing food delivery, table reservations, and so much more for our customers.
And even after all of that, we see so many more opportunities, because even today a lot of meals come from home, and restaurant food is discretion(ary) spend.
Since you've exited your international businesses, what will your focus areas be in India after the IPO?
Gaurav: We are very focused on India, it is a massive opportunity. I don't think the IPO will change how we operate as a business and grow the business.
What is your sense of the investor interest in the IPO?
Gaurav: It has been very encouraging to see the interest level in India. I think both Indian and international investors have a broad perspective about the opportunity that they have, about how to build out the opportunity through tech, and what growth means.
Apart from InfoEdge, are other investors also looking for an exit?
Akshant: InfoEdge is selling a part of the large stake it owns in the company. It has been invested in the company from day one, so I think it makes sense. Everyone else did not want to sell any stock.
All of them want to buy and will perhaps buy stock at the IPO. Most of our investors are looking at it as a long-term investment for five-ten years, no one else wanted to sell.
Does having Chinese investors impact your prospects in any way?
Akshant: There's no conscious effort to hide anything here. And if you look at any IPO in India, almost 100 per cent of the investments are from US, Asia or Europe.
I don't think there are Chinese investors who invested in IPOs before this whole episode. Our list of investors, at least anchor investors… you'll see our mix of investors is from across the globe — Hong Kong, Europe, US, and other Asian countries. We've not taken any steps to say that we don't want money from this country or that.
What is your view on the restaurants association filing a complaint with the competition regulator?
Gaurav: I think there are two parts to that. We work with a very large restaurant base, we make sure that we're doing the right thing by them, and we're helping them grow because we'll grow only when they do.
There are many NRAI members and other restaurant partners we keep speaking to. So it doesn't worry us, but it is something that we believe that we should fix.
Source: Read Full Article