Dear Nirmalaji: What I want from the Budget
On February 1, 2021, Finance Minister Nirmala Sitharaman will present the Budget for Financial Year 2021-2021.
Nirmalaji has asked us to send the finance ministry inputs so that the government can prepare an all-inclusive Budget, one that will incorporate the needs of its people.
In a month-long series, A Ganesh Nadar/Rediff.com will speak to Indians across the land about what their expectations from Budget 2021 are.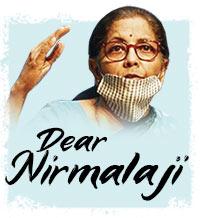 Rajeev Kumar Singh, 30, a native of Behla village in Bihar, works as a security guard at a building in Lokhandwala Complex, northwest Mumbai .
His father Kamal Singh Narayan Chauhan is a priest in Behla village, which has a population of about 800 people.
Rajeev had to stop studying after Class 9 because of family problems. He has ensured that his wife continues her education.
Rajeev used to work in Noida, Uttar Pradesh, as a tailor, where he earned Rs 7,000 a month.
Somebody told him he could earn more money in Mumbai, so he came to the city in 2008 when he was 18. But there was no job waiting for him.
"I stayed under the Lokhandwala bridge for two days when I first came here," Rajeev recalls.
He found a job as a security guard for a salary of Rs 3,550 a month and had no choice but to take it. He now earns Rs 7,500 a month.
This is what he would like to tell the finance minister:
Dear Nirmalaji,
Food items have become so expensive; please reduce the taxes on them.
Petrol/diesel prices are rising rapidly because of which people are very upset. Please don't tax them so much. The price of diesel has a cascading effect on all food items.
Clothes are also expensive.
To stay in Mumbai in a small room, I have to pay Rs 30,000 as a deposit; the rent is between Rs 4,500 to Rs 5,500.
On top of this, I have to pay the water bill and the electricity bill.
I know you cannot reduce the rent, but please reduce the water and electricity charges. That will make all of us happy.
I come from Belha village, which is in Madhubani district, Bihar.
Please build toilets and bathrooms in my village.
Power comes and goes as it pleases in my village. Please ensure that we get 24 hours uninterrupted supply.
Please give funds to build roads in my village as the roads are very bad. We also need a hospital in our village.
I hope you will fulfill all our needs.
Thank you.
Feature Presentation: Aslam Hunani/Rediff.com
Source: Read Full Article